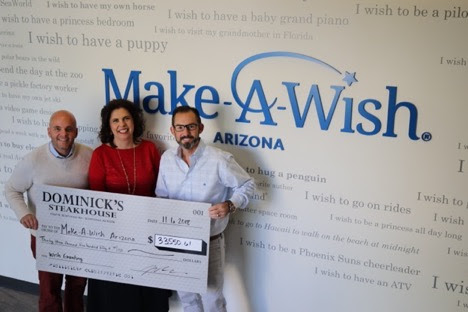 The Valley's favorite family of steakhouses, Dominick's Steakhouse, is proud to present a check for $33,550 to Make-A-Wish Arizona. The funds were raised after holding its annual fundraiser for Arizona wish kids on Wednesday, October 17th.
Thanks to co-founders Jeff, Mike and Dennis Mastro, and Scott Troilo, guests were able to enjoy dinner at Dominick's Steakhouse in the Scottsdale Quarter for a cause. 100 percent of funds raised that night, except taxes and tips to the servers, went directly to Make-A-Wish Arizona to grant wishes for kids dealing with critical illnesses."This event allows us to share the impact of a wish with a new audience while also encouraging our donors to enjoy a special night out to benefit future wish kids," said Elizabeth Reich, president and CEO of Make-A-Wish Arizona. "We could not do what we do without community support from organizations like Dominick's Steakhouse. They help us continue to reach more and more Arizona children dealing with critical illnesses every year."
In 2017, Dominick's Steakhouse raised $21,397 for Make-A-Wish Arizona through this special night.
"We are so thrilled to have raised more than $33,000 for Make-A-Wish Arizona. Every year we look forward to this night. It is a great way to bring the community together and give back to such a deserving organization that does so much for kids and families in our state," said Jeff Mastro, co-owner of Dominick's Steakhouse.
In June, Chief Brand Officer, Oliver Badgio, of Dominick's Steakhouse, Steak 44 and Ocean 44 (opening this December) was added to the Make-A-Wish Arizona Board of Directors.
"It is because of fundraisers like this, that Make-A-Wish Arizona is able to grant so many wishes to children in our state every year. I am proud to be a part of two amazing teams working together to do their part in giving back to our community," said Chief Brand Officer, Oliver Badgio.
Anyone who wishes to donate to Make-A-Wish Arizona can visit www.Arizona.Wish.org/Donate.