Page 2 of 3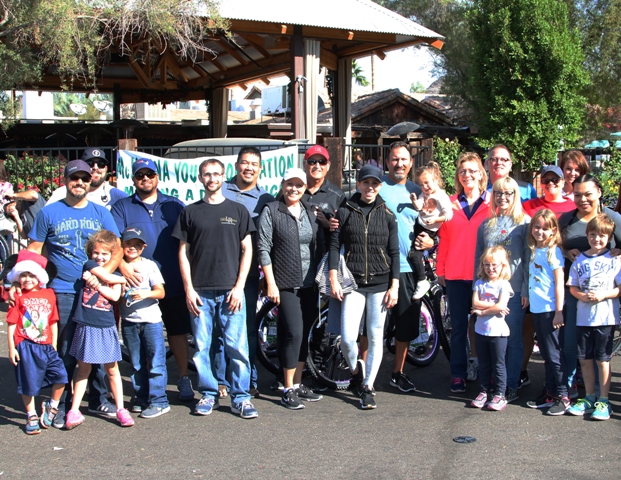 "Redirect our youth, comfort those in pain and give hope to those who need it": this is the vision statement behind the nonprofit, Lerner & Rowe Gives Back. The foundation has raised hundreds of thousands of dollars for notable organizations, including the Boys and Girls Club of Greater Scottsdale, Special Olympics, #LovePup and Habitat for Humanity, as well as supplying tens of thousands to smaller, underserved charities throughout Arizona. Started by the Valley's own attorney, Kevin Rowe, of the award-winning Lerner & Rowe, the primary goal of Gives Back is, purely, to help others and pay it forward.
Philanthropy is the foundation of Rowe's personal philosophy: "There is no reason any child should go without." Rowe shares that the idea behind the foundation started years ago when he and his daughter would go out and help others in the community. "I began the foundation as a means to show my daughter the importance of giving back, as well as offering those in need a helping hand and kind word. We've been blessed, and I believe it's important to pay forward that goodwill by assisting others," Rowe says. "Through the help and support of fellow community members, organizations and my entire team and family—the number of lives we've been able to positively impact is amazing. Together, we can do more to help reduce the desperate need found locally and throughout our state."
You can feel the passion that Rowe brings to giving back in both his actions and words. "I can't live in a community where there is such need and not do something about it." He started out focusing solely on the youth in our state. "I wanted to try and break down some of the obstacles that youth and their families face, such as a lack of daily essential items like school supplies, food and water, medical care, clothing and housing." From there, it became apparent to Rowe that there were so many other groups and individuals that also needed assistance.
As a successful attorney in Arizona, Rowe believes this is just an extension of his work. "In my professional life I provide compassionate assistance and empathy. The charitable work done through Gives Back is just another way to help others during their time of need."
Growth and recognition have also brought growing requests for help, as the team receives multiple requests for assistance almost daily. "We do what we can to support them through donations, volunteer workers or promotion. We'll also reach out to others and ask them to join us in giving back so that more can be done. This way, we are able to make a difference for as many people as possible." One key feature of the foundation is that money raised through donations and fundraising efforts is given back to organizations throughout the state of Arizona.
Each spring, the foundation hosts its biggest fundraiser of the year; the Lerner & Rowe Gives Back Annual Charity Golf Classic raised $283,000 in 2018. In the past five years, this event has raised more than $850,000. All of the proceeds raised from the golf classic are given back to directly support local charitable groups and organizations in Arizona. "This is such a fun event. Every year we raise more money, and every year the community's love and support overwhelm me. We are already planning and excited for next May." (Stay tuned to AZFoothills.com for more information on the 2019 golf event.)
Lerner & Rowe Gives Back foundation welcomes donations and encourages involvement in any of the upcoming drives and events throughout the state. "I couldn't do this alone. None of this would be possible without my family, the entire Lerner & Rowe family, the community and the volunteers and supporters who dedicate so much time and resources. All we're trying to do is make a difference in our community, and we encourage others to join us in doing the same."