Page 2 of 2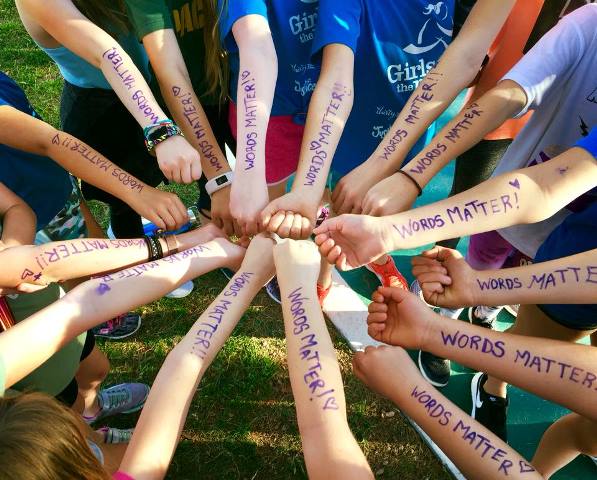 Girls on the Run is a national youth development program designed to enhance girls' social, psychological and physical skills and behaviors to successfully navigate life experiences. The nonprofit helps participants ranging from third to eighth grade face social pressures by inspiring them to be joyful, healthy and confident. They do this by using a fun, experience-based curriculum which creatively integrates running. Girls on the Run has served more than 1.2 million girls since being founded in 1996 (long before Beyoncé belted those lyrics), and has contributed to the transformational behavior of girls boldly pursuing their dreams.
Meagan Kukowski, executive director, began with Girls on the Run as a volunteer coach in 2005. "I was really floored with the impact the program had on the girls and their families; and seeing how clearly they needed something like this in their lives made me want to stick with the organization and help it grow. I'm thrilled that we have been able to grow the program to provide opportunities for middle schoolers. We are now piloting our first summer camp for 2018."
Kukowski says that many women she encounters wish they had a similar program when they were growing up. "The lessons the girls learn are applicable to women as well. If the girls can learn these important lessons, and get the tools in their tool box to make good, positive healthy decisions when they are young, it will stick with them for the rest of their life and will forever change their trajectory."
What's more, there is research to back up the impact that a program like Girls on the Run has on its participants. A study was conducted by Maureen R. Weiss, Ph.D, a leading expert on youth development, in 2016. Collectively, findings using a matched comparison group, a longitudinal design, and quantitative and qualitative methods provide strong evidence that Girls on the Run is effective in promoting positive youth development, including season-long and lasting change in competence, confidence, connection, character, caring, physical activity and life skills.
Upon completion of the program, the girls are inspired, motivated and educated; and when feeling such empowerment, it is only natural to want to share that passion with the people closest to them. "Often times, we hear parents saying that what their daughter did floored them and inspired them to do things like go back to school or accomplish other big goals," Kukowski says. This ripple effect is often an occurrence after the completion of each program. The girls become more confident, work harder, take on larger roles and accomplish their goals, and it makes parents and friends want to do the same.
Girls on the Run is looking to expand to new locations including school, churches, community centers, youth athletic centers and more. They also provide all the training and tools needed to achieve an exceptionally rewarding experience for their partner sites and provide scholarships to girls in need.