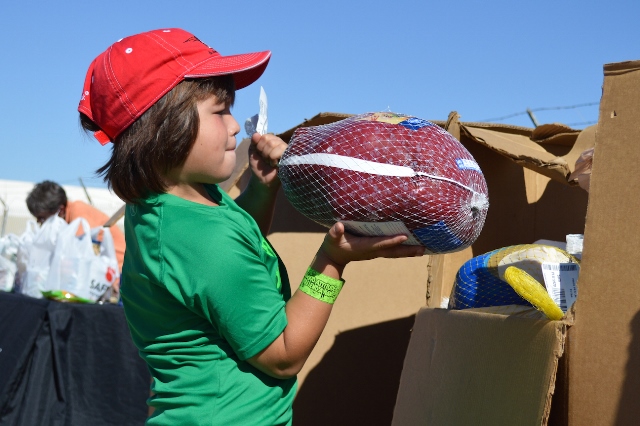 Phoenix Rescue Mission has launched its innagural "HOMELESS FOR THE HOLIDAYS." Running now through Dec. 31, the campaign hosts several events throughout the fall and winter to support the homeless and less fortunate during the holiday season. Phoenix Rescue Mission aims to serve more than 108,000 meals during the holidays.
"More than 25,000 people in Maricopa County have no place to call home, and many of those individuals are young children with single mothers. Can you imagine how difficult it must be for these kids during the holidays when everyone else is celebrating and they're not even sure where they're going to sleep each night?" says Phoenix Rescue Mission CEO Jay Cory in a press release. "As we enter the holiday season, it's so important for us as a community to stand together for these kids, families and individuals so they can, at least for a moment, forget their day-to-day struggles and celebrate the holidays just like the rest of us."
Phoenix Rescue Mission currently is in need of food, water, blankets, socks, sleeping bags, toys, volunteers and monetary donations to support the new campaign.
"Believe it or not, the community we serve is in desperate need of new socks, and our supply is extremely low. We are asking the community to step up and donate whatever they can, even if it's just one pair," says Cory. "Keeping your feet warm is essential to maintaining a healthy body temperature, especially for those who will be living on the streets this winter. At night, temperatures can drop below freezing, which puts our homeless at risk of hypothermia and other dangers associated with the cold."
For a complete list of needed items and drop-off locations, please visit www.phoenixrescuemission.org.
Upcoming public events for "HOMELESS FOR THE HOLIDAYS" include:
Saturday, Nov. 11: Frozen Turkey Saturday & Open House
Frozen Turkey Saturday is an event that brings people to the Community Solutions Center for a tour, free lunch, and musical entertainment. It is also the day that people drop off their frozen turkeys to share with the community. Our goal this year is to provide frozen turkeys and food boxes for 1,000 families. Bring a frozen turkey to the Mission on that Saturday and help feed those who are in need of a bountiful Thanksgiving meal.
Saturday, Nov. 18: Thanksgiving Food Box Delivery Day
Volunteers from all over the Valley come to the Community Solutions Center to pick up Thanksgiving food boxes and frozen turkeys (which provide a Thanksgiving meal) along with the addresses of needy families. They then deliver the food boxes and turkeys to the designated addresses given to them. This year our goal is to provide Thanksgiving dinner to 1,000 families.
Saturday, Dec. 16: Winter Wonderland Community Event
Phoenix Rescue Mission will collect new, unwrapped toys for needy children and small household items and personal gifts for their moms and dads. The Mission will then host a shopping area where the moms/dads can come and "shop" for their children for Christmas. The children will also be able to "shop" for mom and dad and then also wrap the gifts they picked for them.