Gustavo Tabares is one of four fashion consultants at the Biltmore Fashion Park's Saks Fifth Avenue Club in Phoenix—a personal shopping service perceived as members only, that is, until now.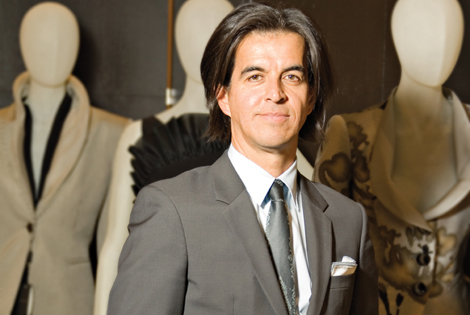 Tabares began his career as a young Phoenix boutique owner rubbing elbows with reputable designers while attending New York's Fashion Week. Today, he prefers to sit back and thumb the pages of fashion magazines to find inspiration and stay with the trends, leaving the Big Apple's hectic fashion shows behind. "I think you're born with style," Tabares says. "I did go to school; I have a fashion and business degree from Arizona State University. But, they don't teach you to sell navy and brown together. You're educated on fabrics. I think style comes from within." Tabares goes on to speak of the many socialites he's outfitted, but remains hush on their identity. He stresses that privacy is of the utmost importance to him in this industry.
As this style guru rounds 10 years at Saks, it's safe to say he's seen fashion come full circle, but he can't seem to shake the one lingering stereotype still attached to the Fifth Avenue Club. "There's a misunderstanding that people think when you say personal shopper, that we charge, and we don't," Tabares says. "The reason we have this service is to concentrate on the customer one-on-one. They get treated like royalty,―V.I.P. style." He recommends making an appointment, so the consultant can devote 100 percent of their time to the client.
As for those potential clients still on the fence, Tabares says come with an open mind. "Sometimes the things you see on the hanger don't always look good on, and vice versa. I'll show you what I know looks good on you," he says. And his secret for the perfect outfit starts with perfect undergarments. "If you have the wrong undergarments on, your clothes will fit totally different," Tabares adds. When asked which type of garment is the hardest to fit, he says, without pause: jeans. No one pair ever fits the same.
It's obvious that Tabares is passionate about what he does. "I love it, and [I love] the clients. I have clients that I have been working with for 20 years. They become your friends," he says. And what better way to spend a workday than with your friends.