Jeff Lowe is a native Arizonan who spent the better part of his younger years exploring the Phoenix area. After graduating from Sunnyslope High School in 1982, Lowe moved to California where he graduated from Occidental College with a degree in economics. Today, Lowe—a 22-year veteran of the banking industry—is the Arizona market president of MidFirst Bank, which is "one of Oklahoma's largest banks and the third largest privately held financial institution in the United States," Lowe says.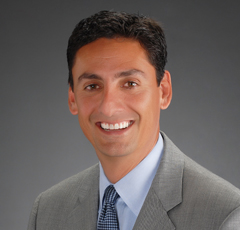 In a time when economic hardship is no longer whispered, but plastered across televisions and airwaves, MidFirst Bank employs 262 Arizonans and will soon celebrate the grand opening of its 17th Arizona banking center at the end of 2009. "We've been lucky to attract an outstanding team of employees to help us in our expansion efforts, and we feel like we've got a good message for the community even in this difficult economic time. That message is that we are committed to, and optimistic about the future of this city. The proof lies in the investments we've already made, those we are making today, and those planned out in the future," Lowe says.
Prior to MidFirst Bank's 2004 expansion into Phoenix, the company carefully considered several other markets. "MidFirst's decision to move into the Arizona market was based on a number of factors, including population growth, a business-friendly climate and Phoenix being somewhat under-banked on a per capita basis compared to other large metropolitan areas," Lowe says.
Since 2004, Lowe has volunteered in surrounding communities in an effort to help raise money for local nonprofits. To date, Lowe is an active member of the Thunderbirds, who annually host the FBR Open and in 2008 raised an astonishing $8.7mm for Arizona charities. Furthermore, Lowe participates on the Board of Directors for the Arizona Science Center and also enjoys the "Taste of Phoenix" event, benefiting the Boys and Girls Clubs of Metropolitan Phoenix. "I am proud of the commitment our bank has made through charitable contributions in just a few short years here in the Valley. I think it shows how strongly we feel about being an active and involved member of the community," Lowe says. When not working, Lowe enjoys traveling, fly-fishing, golfing and hiking throughout Arizona. Adds Lowe, "The beauty of our state lies in the diversity of the activities we can enjoy."
For more information on MidFirst Banks, visit www.midfirst.com.