Dr. Glenn Waterkotte, medical director of the Neonatal Intensive Care Unit at Banner Desert Medical Center and the new, almost-complete Cardon Children's Medical Center, is THE guy you want on your team should you find yourself with an ill newborn baby.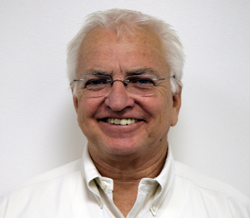 Part of the reason is because of his 35 years of experience in pediatrics; and the other part is his soothing demeanor and truly kind bedside manner. Both of those combined make him one of the top physicians in his field and a major asset to Banner Health.
Dr. Waterkotte graduated from medical school in 1969 and since then has been a pivotal part of thousands of children's lives. There are countless "graduates," as he calls them, who have grown up to become healthy adults because of his caring treatment and medical care. He arrived at Banner Desert Medical Center in 1987 when there were just 24 pediatric beds and a small nursery, so he has seen first hand how the hospital has grown immensely in pediatric care and how the new Cardon Children's Medical Center will be the apex of children's medicine. "The expansive new unit that will be available in the new hospital will allow us to meet the growing need for these type of expert services," he says.
As Dr. Waterkotte tours us through the halls of his current work place at Banner Desert, he brings a smile to the faces of everyone he passes, from patients to fellow physicians and staff members. It's clear he is a well-like guy. He has a sense of humor, great communications skills and a sincere passion for his job, which is rarely seen like he expresses it. People feel safe in his presence, which is probably the best thing a doctor can offer, next to their expertise of course.
In the new $356 million Cardon Children's Medical Center, located on the current Banner Desert campus, the children of Arizona and beyond will have 248 pediatric beds, which according to Dr. Waterkotte will satisfy a great need. Come November's opening, you will find him there, working his magic as always-just in a totally high-tech, super exciting new hospital this time.
For more on Banner children's medicine, visit www.bannerhealth.com.