This dean strives to join traditional journalism values with cutting-edge communication.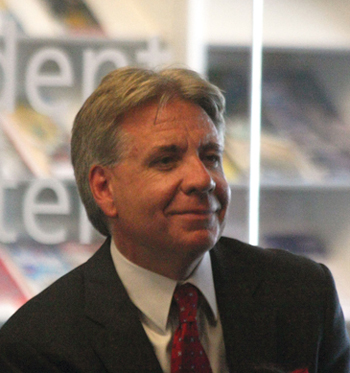 As the founding dean of the Walter Cronkite School of Journalism and Mass Communication at Arizona State University, Christopher Callahan had a specific vision in mind upon accepting the job in 2005. "It [my vision] was fairly simple," Callahan says. "It was to take what was already a very solid professional journalism school and make it the best in the country."
In order to do so, Callahan says he needed to combine the old with the new. He wanted the school to join traditional journalism with the new technologies that allow journalists to reach out to audiences in multiple ways. "Those are two very different goals but we think for the future of journalism it is important to do both of those things at a very high level together," Callahan says. "So we designed the curriculum, we've hired the faculty and we designed this building [the Cronkite school] all with that goal in mind."
Callahan says his strong feelings toward ethics and the importance of journalism in society came to pass at his time at Boston University where he received a bachelor's degree in journalism from the School of Public Communication. After he graduated, he became a political reporter and a correspondent for The Associated Press. He later attended school at Harvard University's John F. Kennedy School of Government and received a master's degree in public affairs.
Callahan says he didn't plan to go into higher education, but when a position came up at the University of Maryland's Philip Merrill College of Journalism, he decided to give it a go. He took the job on an experimental basis to see where things went.
Away from the office, he likes to spend his free time with his wife, Jean, and his two sons, Cody, 18, and Casey, 13. Even during his time off, though, Callahan is always thinking of the students. For instance, every Thanksgiving, Callahan invites students into his Scottsdale home if they have nowhere to go. "Thanksgiving is the one holiday that I think is so much about family, and, for some of our students, home is just too far away," Callahan says. "It's expensive and all that and just the notion of some of our 18-year-olds sitting in an apartment or some dormitory all by themselves [is] very depressing."
The tradition started about four years ago with four students, and this year the family hosted about 18 students. "This really shows how genuinely nice he is," says Brittany Everhart, ASU sophomore. "Not many deans would let students into their home. The guy cares about his students. He does want them to succeed, and he wants to help."
To Learn More:
Walter Cronkite School of Journalism and Mass Communication
cronkite.asu.edu.