Page 3 of 3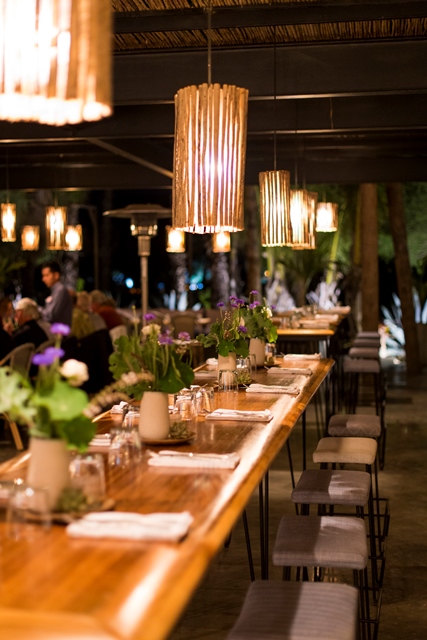 For a sweeter start to your day, the Marquis Wake Up amenity will cater to your every need, especially if you're a fan of coffee, carbs and serious shut-eye (who isn't?). Each morning, a pot of coffee and basket of sweet rolls is delivered to every guest room through a special alcove. And yes, it's as good as it sounds; just stumble out of bed—or rise and shine, if you're that type of person—and open the mini door to find a carafe of caffeine and an assortment of freshly baked treats. You don't have to request it and no one knocks on your door, making waking up something to look forward to. After devouring the sweets, we suggest balancing your morning out with an order of chilaquiles, a popular Mexican breakfast of fried corn tortilla triangles, red onions, crema fresca, cotija cheese and red or green sauce. Enjoy them from the warmth of your bed or at Vista Ballenas.
For an off-site dinner, visit ACRE Baja Restaurant & Cocktail Bar, a new restaurant nestled into 25 acres of Baja farmland. The trek to get there requires about a 30-minute drive from the resort and includes a slight off-road adventure down a dusty back road, but the trip is definitely worth it. While the restaurant and bar is the highlight, the property also includes a nearly finished outdoor event space located in the middle of a mango orchard with a 6,000-sq.-ft. "floor" made of concrete and hand-painted tile and a large rectangular swimming pool. Soon, 12 tree house accommodations will add to the versatility of the overall property, creating a multi-purpose space to kick back and relax.
The trendy outdoor restaurant not only incorporates locally sourced ingredients into its dishes but the structure also celebrates the Baja. The walls are made from compressing the surrounding earth, the shade structures are made from local Palo de Alto trees and all furniture, dishware, décor and lighting is sourced from the Baja or Mexican mainland. An open kitchen, pendant lighting, couch seating and a chilled-out vibe top off the atmosphere—not to mention the food is out of this world. Using ingredients from its farm and neighboring suppliers, the dishes are about as fresh as it gets.
Whether you're curled up in bed with just-delivered sweets, soaking up the sun while scooping up some ceviche or sipping on a fruit cocktail under the shade of the tree it was picked from, you can't go wrong in Cabo—and we'll bet our morning coffee on that.
Learn More: marquisloscabos.com.