Page 3 of 11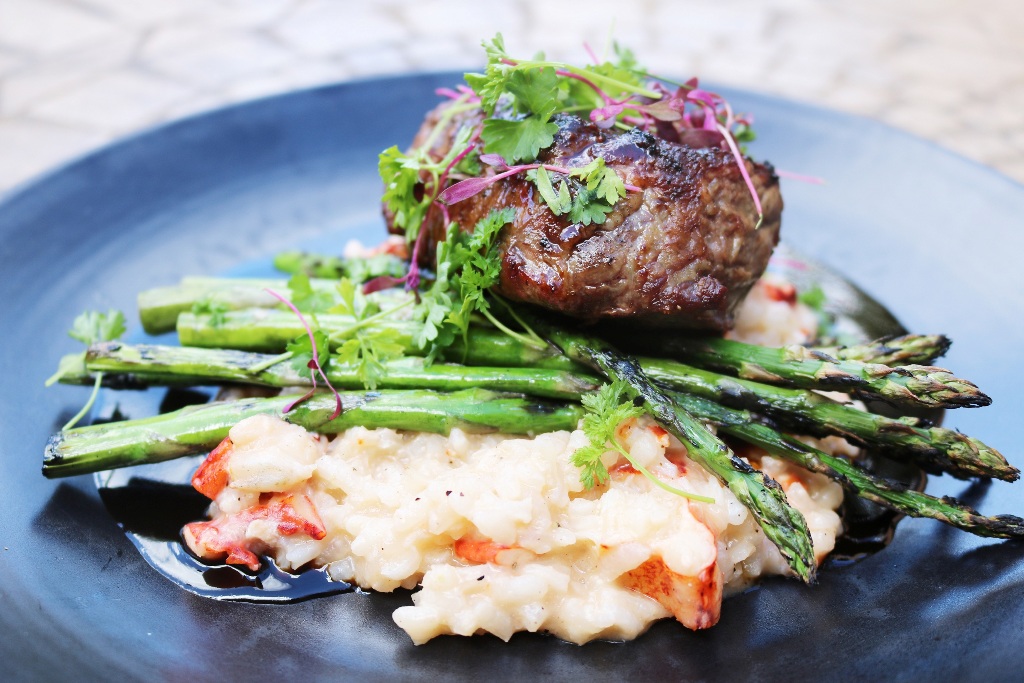 T. Cook's (pictured)
T. Cook's is located at the five-star Royal Palms Resort & Spa on Camelback Road in the Phoenix/Scottsdale area. The resort is luxurious with mission-style architecture, and T. Cook's only serves to enhance the experience. Patrons at T. Cook's can pamper themselves with a candlelit date on one of the restaurant's two patios, while taking in the scenic Camelback Mountain views in the light of Arizona's golden sunsets. Inside, guests can spend a long, laidback evening with friends by the fireplace. Among the Mediterranean-inspired dishes, focused on seasonal ingredients and uncomplicated preparation, the American wagyu beef hot stone and pan-roasted branzino are favorites.
Tarbell's serves a unique variety of seasonal seafood dishes, from Georges Bank scallops to butter-poached lobster, as well as fixed menu items like pan-roasted chicken and center-cut tenderloin filet, for a casual upscale dining experience. And the house-made desserts are not to be ignored: an extensive menu that would make any sweet tooth's head spin, treats like the profiteroles (cream-filled French choux pastry with vanilla gelato and ganache) and cheesecake with rosemary caramel sauce are perfectly decadent and just the right amount of excessive. To drink, the barrel-aged cocktails also make a bold statement.
The enchanting, glowy ambience of Vincent on Camelback is almost fairytalelike, perfect for an evening out for two. Providing impeccable service since 1986, Vincent on Camelback serves fine French cuisine while incorporating Southwestern ingredients. Stone wall accents and simple crystal chandeliers set the tone of Chef Vincent's culinary vision of classically prepared haute French cuisine blended with the zest only the Southwest can muster. For more laidback dining, guests can mosey over to the Vincent Market Bistro for lunch, dinner or Sunday brunch, directly adjacent to the main restaurant.
Just south of Gainey Ranch in Scottsdale, Roka Akor is a swanky Japanese restaurant serving steak, sushi and seafood. A contemporary style gives off electric vibes at this Scottsdale hot spot, from the glowing bar to red backlighting at the bar-style seating in front of the kitchen, where guests can watch the chefs at work. Dishes are just as aesthetically pleasing as the restaurant itself—we're talking ornately crafted fresh seafood and shellfish plates with various adornments exuding a rainbow of colors. And Roka Akor is known for killing it when it comes to excellent steaks, including bone-in and dry-aged cuts, as well as premium domestic and Australian wagyu beef.
For those in the mood for the uniquely smoky flavors of authentic wood-fired pizzas, look no further than the award-winning The Parlor on Camelback and 20th Street. Its menu changes seasonally, so you never quite know what toppings and combinations will be available (which is honestly part of the fun). Happy hour runs from 3 to 6 p.m. daily, where guests can order 8-in. pizzas and a selection of cocktails for $8 each, or $2 off sangria, draft beers, well liquor and glasses of wine.