Page 3 of 4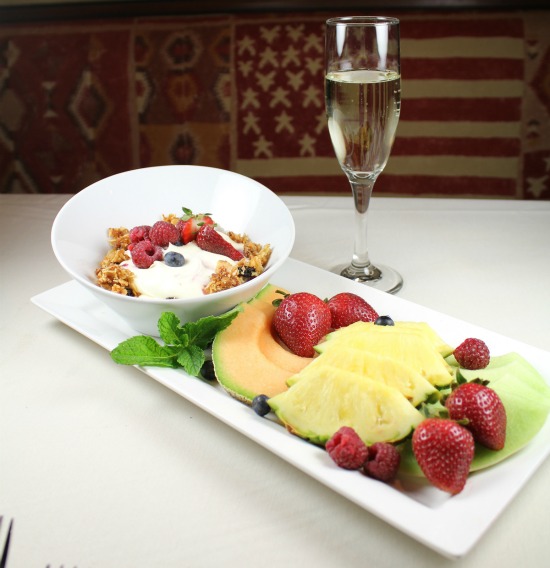 Menu
Since, by definition, a brunch is a combination of breakfast and lunch, the most successful brunches have a combinations of both meals presented at the table.
Nasworthy says hosts should create a well-balanced menu that contains an egg dish, a lighter item, and at least one lunch dish. Also, keep in mind when creating your menu that you may be catering to people with very different food preferences. A brunch isn't something that can be planned on a whim in a matter of minutes, since it requires invites, particular decor and a menu set to serve lots of tastes, it's important to think about what food will be served before hand.
Hosts should plan a menu ahead of time and head to the store a few days before the brunch to get everything they need so they're not scrambling the day of. Nasworthy breaks down some of the most popular brunch items hosts can present quickly and easily but that will appeal to all of their guests:"Eggs Benedict are a staple on a brunch menu, and they can be served in a variety of ways, so that you can offer several topping choices to appeal to all of your guests," Nasworthy says. "With a good hollandaise, poached eggs, and some type of brioche or English muffin for a base, the possibilities are endless. You can make traditional eggs Benedict with Canadian bacon or get creative and try crab, sirloin, turkey and spinach or even spice up your hollandaise with some Southwestern spices and top with chorizo."
Nasworthy says breakfast potatoes are also good side dish for a brunch menu since they have mass appeal and are usually a crowd favorite. Hosts should also round-out the menu with a lunch dish such as a classic Monte Cristo sandwich that they can cut into quarters for serving.
Of course, what brunch would be complete without mimosas? Since these drinks require almost no preparation, you get more time to chat with all of your guests. Just combine equal parts Champagne with equal parts orange juice. For an unexpected touch, Nasworthy suggests to drop a strawberry or a couple of raspberries in the bottom of the glass.
To save yourself time and hassle the day of, prep some of your dishes the night before. If you're serving sandwiches, get all the ingredients sliced and ready to build, or if a fruit salad is on the menu, chop everything the night before and set it in the fridge so you can just combine it when your guests arrive and avoid spending the majority of the event in the kitchen.
It's also smart to set the meal up family-style with dishes set in larger plates in the middle of the table for guests to grab and plate themselves. It's great for all your attendants because they can pick-and-choose what they want to eat, and it will make your life easier and will require less food.