Page 1 of 2
The 28th Taste of Greece festival returns to Tempe Town Lake April 29, 30 and May 1.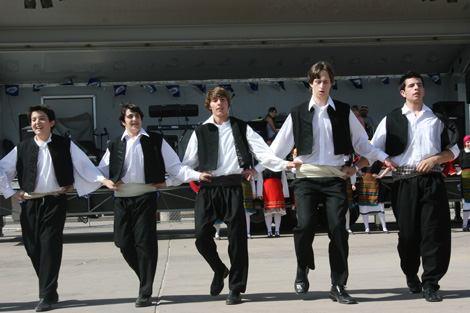 A celebration of Greek culture in America, the annual event offers traditional foods, imports, live music, folk dancing, carnival rides, games and other activities.
The event takes place 11 a.m. to 11 p.m. Friday and Saturday and 11 a.m. to 7 p.m. Sunday, with proceeds benefitting St. Katherine Greek Orthodox Church of Chandler and its philanthropic activities and community charities. Admission is $3 for adults, $2 for seniors, students and children 12 and up, with those under 12 free.
"We're proud to carry on a tradition from a homeland rich with unique tastes and culture," says James DeDakis, this year's festival chairman and a two-year member of St. Katherine. "I am extremely proud of my Greek heritage, both from a historical point of view as well as present day. I always get a lot of joy showing, educating and demonstrating our ethnic DNA.
"Taste of Greece represents what Greek culture has to offer," adds DeDakis, a Greek native who grew up in Chicago and moved to the Phoenix area in the mid 1970s. "And, you don't have to be Greek to enjoy the festival; there's something here for everyone."
The Phoenix area holds four of these events annually — each sponsored by one of the four Greek Orthodox parishes in the Valley. The other three are Holy Trinity, Phoenix; Assumption, Scottsdale; and St. Haralambos, Peoria.
The events are held in the respective cities. The Chandler event is at nearby Tempe Town Lake because of the growing number of attendees each year. The first festivals were held on the grounds of St. Katherine and then downtown Chandler, with the last five festivals at Tempe Town Lake.
"The main reason for the change in venues is the increased popularity in our annual festival," says Harry Kantarze, a native Ohioan who joined St. Katherine in 1989 and served as its president for 10 years and is now vice president of the Parish Council. He notes that the last two years events have averaged approximately 14,000 attendees each.