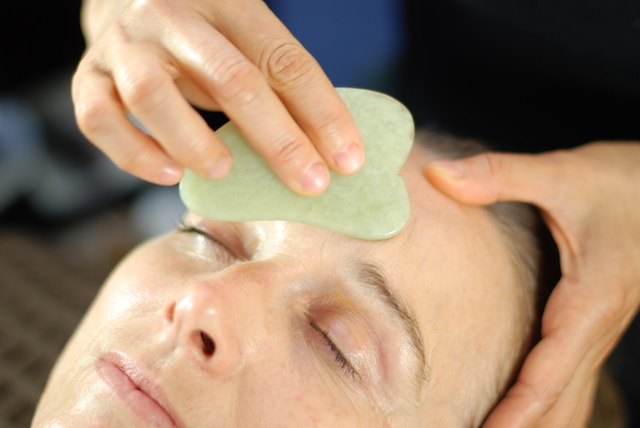 Gua Sha, also known as "spooning" or "scraping," is a traditional Chinese alternative medical treatment—used since the Ming Dynasty and currently by Gwyneth Paltrow and Jennifer Aniston—that involves scraping of the skin to prevent various illnesses and help with chronic pain.
To get more information on Gua Sha, AZFoothills.com reached out to the owner of Scottsdale Integrative Acupuncture, Constance Bradley, to give us more information on this medical treatment and all of its benefits
Used all over Asia and gaining fame in the United States, Gua Sha is a preventive and pain-management treatment that just about anyone can benefit from. The way in which it works is when a round-edged tool—usually made out of jade—is scraped over the skin after the addition of oil. The tool, known as "gua," is slid over the skin resulting in red markings known as "sha." This then stimulates an anti-inflammatory immune response which increases blood flow to that specific area of the body helping with the loosening of the muscles. The treatment is generally performed on a person's back, neck, arm and legs leaving red markings on the skin that usually dissipates within two to four days after the treatment is done.
Bradley states that Gua Sha is used to alleviate signs and symptoms of the cold and flu, back and neck pain, headaches, asthma and decreased range of motion. This natural—drug-free—alternative medicine technique is one that can be used on all ages and sizes as well as pregnant women. It is seen to help people with arthritis or fibromyalgia, women with breast engorgement (a temporary condition experienced by many breastfeeding women), migraine headaches, Tourette's syndrome and premenopausal women.
Gua Sha is a non-invasive treatment option that many Americans are starting to take advantage of due to its natural healing properties as well as having "zero downtime and no side effects," says Bradley. Although it is mostly used on people with joint or muscle pain, it can also be used as a prevention method and a way for one to maintain their health. Due to the way in which it "increases circulation and decreases inflammation, it helps to keep minor issues from becoming major health concerns."
For acute problems dealing with muscle and joint pain, Bradley suggests getting the treatment done once a week. For those just looking to use Gua Sha as a prevention method and to maintain health, it is suggested that you get treatment done once a month.
Make sure to visit Scottsdale Integrative Acupuncture to give this treatment a try as well as visiting their website, www.scottsdaleintegrativeacupuncture.com, for scheduling your Gua Sha appointment and using their free resource library to receive more information on this treatment and many others.