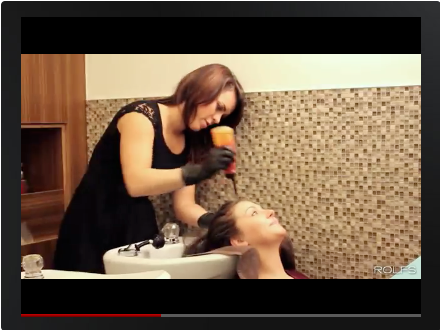 For this month's monthly makeover, Rolfs' stylists transformed two curly haired ladies, Marisa and Sandra, with fresh, new fall styles. Marisa's hair was out of control. Her big, voluminous curls were overpowering her look and incredibly difficult to manage. Sandra's hair may lack Marisa's volume but her hair's frizziness causes knots and tangles throughout the day.
Low-volume hair is a huge trend for Fall 2012 so the stylists at Rolfs Salon wanted to take the ladies' natural unruly texture and tone it down for this season and emphasize a sleeker silhouette. Achieving smooth, sexy hair in fall is easy thanks to Rolfs' Organic Smoothing Treatment, a keratin-based smoothing treatment. When maintained with the recommended products, the treatment can last from three to five months. The treatment smoothes and reconditions the hair while restoring shine.
Want to know how you can receive a makeover from Rolfs Salon? Our very own celebrity beauty guru, Rolf, is on a mission. Rolf will be taking lucky individuals from drab to fab while addressing the most common or puzzling beauty questions. Are you or is someone you know ready for a beauty transformation? Submit your story to contact@rolfssalon.com (Subject: MAKEOVER) and tell us why you or someone you know needs a new style. Rolf may be showing up on your doorstep with his glam squad to take your look to a whole new level.
Rolfs Salon
Chandler, Glendale, Mesa, Scottsdale
480-607-1414
Like Rolfs Salon on Facebook: www.facebook.com/RolfsSalon
Follow Rolfs Salon on Twitter: www.twitter.com/RolfsSalon
For More Makeovers + Tips & Tricks Videos: www.facebook.com/RolfsSalonSpa