When you want your mind, body and spirit to feel healthy, yoga and massage are both great ways to achieve that. Both are available in a variety of formats, starting with the ancient art of yoga: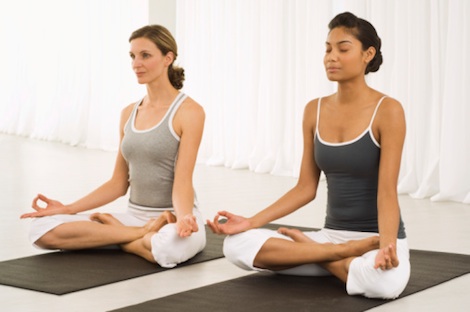 * fast-paced Ashtanga or Power yoga gives you a workout
* hot Bikram yoga makes it easier to move and stretch
* slow and gentle Hatha yoga sets a comfortable pace
* prop-using Iyengar yoga helps align your body correctly
* chakra-freeing Kundalini yoga releases energy inside
* vigorous Vinyasa yoga warms you up for intense stretching
* numerous other types of yoga offer their own benefits
If you're not sure which type of yoga suits you, it's a good idea to try several. While each one offers different advantages, yoga -- just like massage -- is known for three key benefits:
1. Improving Flexibility
Massage and yoga each help your body become more flexible, with yoga working gradually on increasing your stretching ability and massage helping boost the natural lubricants in connective tissue. A greater range of motion and more limber joints make everyday activities easier, as well as improving your posture and even your breathing.
2. Increasing Circulation
Yoga and massage both help blood move through your body, making room for more oxygen-rich blood that keeps your hands and feet warm while healing injured muscles. This also results in lower blood pressure, which improves your overall health and wellness.
3. Relieving Stress
Stress is part of everyday life, yet it takes a toll on your health. Anyone who maintains a busy schedule, spends extended time in the same position, or uses muscles for repeated movement, sometimes feels a twinge of pain or discomfort. Yoga and massage can both provide the kind of relaxation that results in deeper sleep, better physical and mental performance, and higher energy levels.
Which Comes First?
Combining yoga with massage offers the best possible blend, and people who make use of them both enjoy discussing whether it's better to schedule a massage before or after a yoga session.
Before yoga, massage helps provide the warmth and stretch your muscles may need in order to hold a pose longer. If you have trouble concentrating during a yoga session, massage can make it easier to sustain focus by removing your attention from the day's distractions.
Massage after yoga creates a powerfully relaxing experience, after which you may feel so tranquil you'll want to bask in that peaceful feeling for the rest of the day. Since massage is equally effective whether you're fully conscious or drifting off, you may want to schedule it when you can enjoy more leisure time.
Types of Massage
There are as many varieties of massage as there are of yoga, and again it can be helpful to try different ones from time to time:
* Aromatherapy combines massage with scent to encourage relaxation or invigoration
* Cranial Sacral concentrates on the skull, jaw and scalp to relieve headaches or TMJ
* Deep Tissue releases chronic tension in the deepest layers of muscle and tendons
* Hot Stone uses smooth, warm stones to increase muscle relaxation and blood flow
* Maternity addresses the comfort and health of both the pregnant woman and her baby
* Sports relieves the strained muscles, boosts recovery and helps prevent further injury
* Swedish is the most commonly chosen type of massage, with slow and gentle strokes
* Trigger Point targets specific muscular pain through isolated pressure and release
Taking Precautions
Both with yoga and massage, ask your doctor before embarking on any unusual new activity -- especially if you're dealing with arthritis, osteoporosis, pregnancy, or any other issue that might present a problem.
If you feel any pain or dizziness a yoga session, stop what you're doing. And if that happens during a massage, tell the therapist immediately. Both massage and yoga are considered safe for healthy people, but always make sure you're working with an experienced, credentialed therapist or instructor.
Risks are minimal, though...and anytime you find yourself stressed by everyday life, wishing for more flexible joints, trying to get a good night's sleep or dealing with stiffness and soreness, massage and yoga can each provide relief.
What Works For You?
Yoga and massage aren't the only ways for relieving stress, although it's hard to find a better way to combine relaxation with improved circulation and range of motion. But when you're looking for a way to reduce tension in your life, what's your favorite method? Share the answer here, and you might inspire other readers to try something new!
[Laurie Schnebly writes for the Gilbert Massage Envy Spa located near Santan Village. With a master's in counseling and 11 years as a therapist, she focuses on issues that affect daily life for people who want to improve their overall health. Take some time to commit to a better balance of health and wellness by scheduling a facial or massage at one of the Phoenix Massage Envy area clinics.]