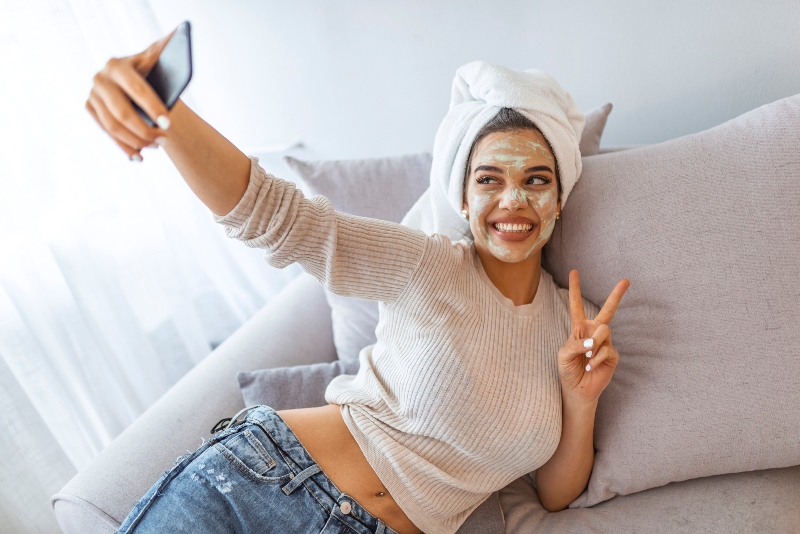 As we all settle into a new "normal," it's important not to completely lose sight of taking care of yourself. It can be easy in times of change and turmoil to let go of the "less important" things. But after a little while, you should start adding back into your routine those habits that help you feel and look good. Maybe you've found a great online workout and meditation app and are cooking healthy food. And while it may not be possible to see your aesthetician or dermatologist for now, there are steps you can take at home to keep your skin looking and feeling its best.
The most important habit for your skin will also boost your immune system. Stay hydrated with plenty of water to keep your skin moisturized from the inside. By also applying a high-quality moisturizer morning and night, you can seal in the moisture and keep your skin barrier strong. Many plastic surgeons, med spas and dermatologists are offering sales in their online stores. This is a good time to score high-quality moisturizers for a lower price while helping to keep local businesses going.
Vitamins are essential for your skin. Vitamin C, E and A, along with Ferulic, strengthen your skin cells. Healthy skin retains moisture more effectively, pushes dead skin cells off faster, and is better able at keeping out harmful pollutants. Use a retinol serum with vitamins at least three times a week to get those essential skin supports right where they are needed.
A weekly glycolic acid peel will encourage cell regeneration and keep the top layer of your skin populated with healthy, youthful cells. It can also help brighten your skin and keep dark spots at bay. Peels come in different strengths, so start with a lighter peel and see how your skin responds.
Finally, as usual, use sunscreen. If you are spending more time outside, you are infusing your skin with essential vitamin D. And you are also being exposed to more UV-A and UVB rays than normal. Use a mineral sunscreen to ensure that your time outside is contributing to your health, not aging you prematurely!
With these few easy steps you can ensure that this time of social distancing doesn't wreck your skin. A little bit of care and attention will guarantee that when the time comes to be with people again, you will look and feel your best.
Arizona Facial Plastics is the leading plastic surgery practice and med spa in Phoenix. Dr. Farhan Taghizadeh and his wife Felicia opened Arizona Facial Plastics in October 2016 where they specialize in plastic surgery, sexual rejuvenation, skin care, and overall aesthetics. www.arizonafacialplastics.com