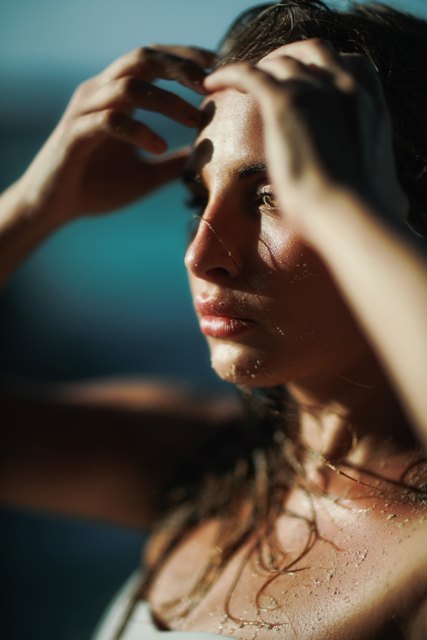 Maybe you've noticed it on your way to work in the morning: that orange haze that seems to hang above the city and below the Southern Mountains. With the Valley of the Sun population at over five million and growing rapidly, air quality is a major concern. But while many people take precautions against pollution's effect on their lungs, not many stop to consider its effect on their skin.
Pollution has a direct effect on your skin's health. Researchers have noted that in areas with high levels of pollution, people report more acne, eczema, psoriasis and skin sensitivity. Pollution also contributes to skin dryness, premature aging, discoloration, dullness and roughness.
Pollution is damaging not because of the dust you can see, but because of the invisible molecules you can't. There are hundreds, if not thousands, of chemicals in our soil, water and air. These chemicals can have a harmful impact on us when they attach to particulates, like urban dust, that settle on the skin. When you have more urban dust—a k a high pollution—there is a higher likelihood that harmful chemicals will land on and penetrate your skin. Then your body has to work hard to neutralize these chemicals' impact on your health.
While it may sound dire, there are steps you can take minimize pollution's impact on your skin health so that you not only look great, but also reduce your chance of developing irritating skin conditions.
First, wash your face daily. Use a high-quality facial wash, and even a gentle scrub to remove the dust and dirt. Many washes contain ingredients like glycolic acid that help exfoliate dead skin cells to reveal brighter, newer skin.
Next, add vitamins to your skin care routine. A few nightly drops of a topical vitamin C serum, with CoQ10 and Ferulic, will help your skin cells repair and rebuild. Niancinamide (Vitamin B3) is highly effective in reducing the damage chemicals cause to your skin cells, and can be found in several high-quality facial products.
Hydration is key to healthy skin. Not only should you drink lots of water daily, but also use a moisturizer that can act as a barrier to prevent chemicals from penetrating your skin.
A mineral sunscreen is hugely important, as UV-damaged cells have a more difficult time fighting the effects of pollution.
Having a diet high in antioxidants—lots of green, leafy vegetables—will help your cells regenerate and function at their best.
Finally, regular facial treatments like microneedling and lasers help stimulate new skin-cell production and quickly remove damaged cells.
While you may not be able to do much about the orange haze, with education and commitment you can minimize its effects on the health of your skin.
Arizona Facial Plastics is the leading plastic surgery practice and med spa in Phoenix. Dr. Farhan Taghizadeh and his wife Felicia opened Arizona Facial Plastics in 2016 where they specialize in plastic surgery, sexual rejuvenation, skin care and overall aesthetics.