Page 1 of 5
From news and radio to the hottest events and venues across the Valley, we present your selections for Art & Entertainment.
Best News Station
3TV
From dawn to dusk, 3TV's award-winning journalism team satiates the Valley's local and national news cravings. Presenting news updates throughout the day and informative broadcasts at convenient hours, 3TV has earned a reputation as Arizona's go-to news source. As a testament to the Valley's appreciation for the news station, it took home 12 Best of Our Valley nods. www.azfamily.com.
Best Weekend Anchor and Most Fashionable News Anchor
Carey Peña, 3TV
Adding class, style and poise to investigative reporting, Emmy Award winner Carey Peña has earned viewer's trust through her eye-opening 3 On Your Side segments.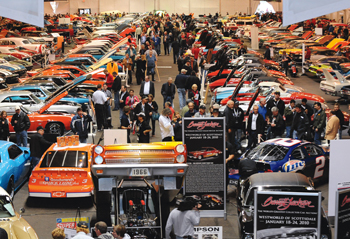 Best Automobile Auction
Barrett-Jackson
Celebrating 40 successful years as the world's most elite auto auction, voters named the annual Barrett-Jackson event as the best for its bustling atmosphere, high-caliber collectors and first-class automobiles. 480.663.6255, www.barrett-jackson.com.
News Anchor of the Year
Kaley O'Kelley, 3TV - Second-Year Winner
Five-time Emmy Award-winning
journalist Kaley O'Kelley is no stranger to viewers around the Valley, especially in the early morning hours. As co-anchor and host of Good Morning! Arizona, O' Kelley adds fun and motivation to viewer's morning routines.
Favorite Local Morning Show
Good Morning! Arizona, 3TV - Second-Year Winner
Everyone dreads an early alarm clock, but Valley residents agree that the morning slump is easier to get over when Good Morning! Arizona is on during their a.m. routines.
Favorite Nightly Newscast
News at 9, 3TV
When looking to catch up on the day's events, our voters chose 3TV's News at 9 as the best broadcast to watch when the sun goes down.
Best Traffic Personality
Gina Maravilla, 3TV
Helping Valley commuters map out
their morning routes is all in a day's work for 3TV's resident traffic expert, Gina Maravilla. As a long-time local, Maravilla's rush hour updates are enhanced by her knowledge of Valley roads.