Page 3 of 5
Favorite Male TV Personality: Afternoon or Evening News
Steve Irvin, ABC 15
As an anchor for ABC News at 4 p.m., 5 p.m., 6 p.m. and 10 p.m., Steve Irvin's persona and appeal are the reasons voters tune in to his many daily broadcasts. www.abc15.com.
Favorite Female TV Personality: Morning or Daytime News
Destry Jetton, 12 News
As host of Arizona Midday, Destry Jetton has won over her daytime audience through celebrity interviews and segments on everything from garden gadgets to parenting tips and beyond. www.azcentral.com/12news/arizonamidday.
Best Afternoon or Evening Show
Valley Dish, 12 News
For our voters, whipping up dinner has never seemed like less of a chore thanks to Tram Mai, host of 12 News' Valley Dish. www.azcentral.com/12news/dish.
Favorite Sportscaster
Todd Walsh, FSAZ
Looking for Todd Walsh? Try glancing at the Phoenix Coyotes schedule. As a radio and TV broadcaster of all things Coyotes, Walsh has been covering the team in one form or another for nearly 15 years. His knowledge and expertise of all the Valley's major sports teams made him a sure bet in this category. www.foxsportsarizona.com.
Best Annual Charity Event
Compassion with Fashion, Arizona Humane Society
For 12 years, the Arizona Humane Society has paired pooches with runway models at Compassion with Fashion. The benefit, which also presents dogs up for adoption, is valued by our voters because it helps to raise funds for the nearly 45,000 animals the Arizona Humane Society takes in each year. www.azhumane.org.
Best Annual Gala
Mardi Gras Gala, Epilepsy Foundation of Arizona
Big-name performers, Cajun cuisine and a traditional Fat Tuesday celebration are all reasons why the Epilepsy Foundation's Mardi Gras Gala is a favorite among
voters. 602.406.3581, www.epilepsyfoundation.org.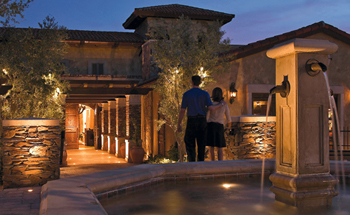 Best Wedding Venue
Sassi - Second-Year Winner
Boasting sensational architecture brimming with romantic nuances, it's no wonder Sassi was selected as the best place to celebrate the joining of two lives. 480.502.9095, www.sassi.biz.