Page 1 of 2
Raise your glass! Here's to the highest vote-getters in Nightlife & Cocktails.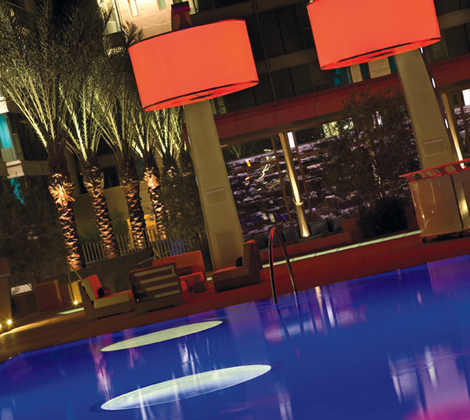 Most Glamorous Place to Party
WET Deck at W Scottsdale
Located on the second floor of W Scottsdale, the stylish poolside deck offers prime people-watching. When the temps start to rise, party-goers dip in the WET Pool that features music and underwater lighting. 480.970.2100, www.wscottsdalehotel.com.

Best Wine Bar
Terroir Wine Pub
Touted as Scottsdale's friendliest wine bar, Terroir Wine Pub hosts a snob-free atmosphere, 30 rotating wines by the glass and a large variety of beers, cheeses, chocolates and cigars to indulge in. 480.922.3470, www.terroirwinepub.com.

Best Cougar Bar Second-Year Winner
Blue Martini
Ladies on the prowl hightail it to this Phoenix martini lounge for yummy cocktails and a posh place to party. Blue Martini's specialty drinks include the new mango mojito and The
Perfect Pear. 480.638.2583, www.bluemartinilounge.com.

Best Place to Stock Up on Alcohol
AJ's Fine Foods
With more than 1,500 wine labels, 350 domestic and imported craft brews and a stellar selection of spirits, AJ's Fine Foods is a one-stop sip spot. Plus, AJ's carries a wide selection of stemware and wine accessories. www.ajsfinefoods.com.

Best Pub & Brewskis
Rosie McCaffrey's Irish Pub
For nine years, Rosie McCaffrey's has served up an authentic pub-style atmosphere and plenty of Irish classics like fish and chips and corned beef and cabbage. To wash it down, the pub serves Irish and Scotch whiskeys, blended and single malts and more fine brews. 602.241.1916, www.rosiemccaffreys.com.

Best Speakeasy or Hidden Spot
Mabel's on Main
Whether sitting at the bar, kicking back in the lounge or settling into a tall-backed booth in the dining room, Mabel's on Main guests enjoy divine hand-crafted cocktails and can't-miss eats in a relaxed, supercool atmosphere. 480.889.5580, www.mabelsonmain.com.

Best Spot for Drinking Activities
The Duce
In addition to a retail area and food served out of a vintage 1956 Airstream, Phoenix's The Duce hosts a bar that comes from Chicago's The Black Orchid (where jazz greats once sat and had a drink) as well as an old-fashioned soda fountain for the kiddos. 602.866.3823, www.theducephx.com.