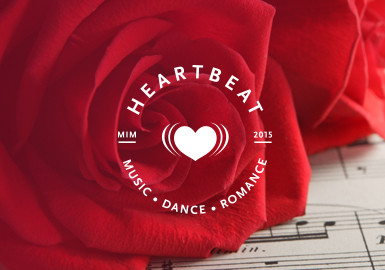 Cha-cha the night away with your valentine! A lyrical evening of Latin rhythms, gourmet foods, local libations, love stories, fun dance lessons, and a classic cinematic love story will take place at the Musical Instrument Museum this Valentine's Day.
For an interactive, eclectic, and classically romantic date-night adventure, head to MIM for HeartBEAT: Music, Dance, and Romance on Saturday, February 14, from 6:00–9:00 p.m.
Throughout the evening, enjoy rhythms from the local Latin band Carmela y Más as well as delectable cuisine and two complimentary drinks, all while you enjoy an impressive series of events and activities.
Self-Guided Museum Tours 6:00–9:00 p.m. | Lower Level Galleries - Stroll with your sweetie to explore instruments in the Artist Gallery, Mechanical Music Gallery, Experience Gallery, and the Target Gallery, with our special exhibition Beyond the Beat: Drums of the World.
Drink and Dine 6:00–9:00 p.m. | El Río - Enjoy passed appetizers including fried oysters and sweet potato fritters; beef flank steak carving station accompanied by lime-baked rice, and Brazilian black beans; Arizona-grown salad station with chicken or shrimp and a variety of locally-grown lettuce, fresh vegetables, grains, cheese, and Sonoran citrus vinaigrette; and a selection of decadent and delectable desserts. Admission also includes two complimentary drinks at our cash bar, featuring local libations.
She Draws You Caricatures 6:00–9:00 p.m. | El Río - Add a touch of whimsy to the evening with a caricature drawn by local artist Dianne Nowicki.
Photo Booth 6:00–9:00 p.m. | El Río - Commemorate your special date at MIM's custom photo booth, and instantly get your own copy to take home.
Partner Dance Instruction 6:30–7:15 p.m. | El Río - Join master dance instructor Chad Lakridis as he teaches couples to conquer the dance floor with cha-cha, salsa, and more!
Film Screening: Dirty Dancing 7:15–9:00 p.m. | MIM Music Theater - Baby (Jennifer Grey) is just a few months away from joining the Peace Corps. Hoping to enjoy one last summer, she is disappointed to find herself at a sleepy resort with her parents. Her luck turns around when the resident dance instructor, Johnny (Patrick Swayze), enlists Baby as his partner, and the two fall in love. Dirty Dancing was a box-office hit in 1987, and the soundtrack album was an even bigger success, spawning several hit singles and inspiring a top-drawing concert tour featuring several of its artists.
Music and Dancing with Carmela y Más 7:30–9:00 p.m. | El Río - Put your newly learned dance moves to the test! Carmela y Más is a kaleidoscope of Latin musical flavors. Latin jazz and salsa rhythms drive this electric band of award-winning musicians. Audiences love their sounds of merengue, salsa, cha-cha, and rumba as well as Latin jazz.
Don't be jaded and settle for a simple dinner and movie; celebrate your loved one with a rich evening of culture, class, and music. Space is limited, so click here to reserve your tickets today!
The Musical Instrument Museum (MIM) enriches the world by collecting, preserving, and making accessible a wide variety of musical instruments and performance videos from every country in the world. We offer our guests a welcoming and fun experience, incomparable interactive technology, dynamic programming and exceptional musical performances. MIM also fosters appreciation of diverse cultures around the globe by showing that we all innovate, adapt, and learn from each other to create music—the language of the soul.
Find MIM on Facebook

Follow MIM on Twitter
Subscribe to MIM on YouTube