Artist Cam DeCaussin at his Artist Reception at Royse Contemporary
Royse Contemporary's current exhibition "Shades of Evening" showcases the captivating oil paintings of local artist Cam DeCaussin this month in Old Town Scottsdale.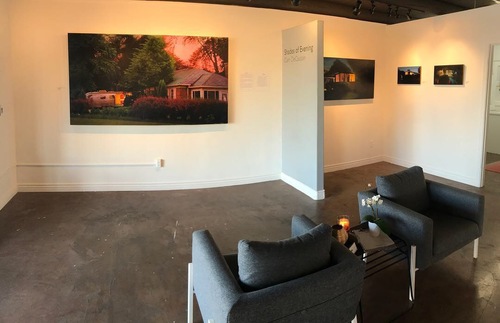 This exhibition features the artist's current work which is inspired by empty, quiet living spaces and their ability to express themes of solace, sadness, separation and contemplation. This skilled realist painter renders fascinating landscapes, gorgeous interiors, that brilliantly capture contemporary life through quiet intimate moments frozen in time, evoking a sense of voyeurism. Primarily focusing on moments within neighborhood homes during the dawn and dusk hours of the day, these brief moments showcase when life exists within.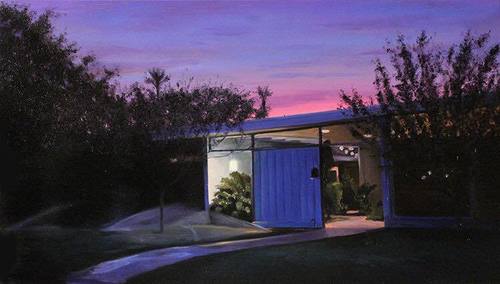 "All of my sins" Oil on Wood Panel by Cam DeCaussin
DeCaussin's ability to capture the energy and mystery within his subjects, blended seamlessly with his keen eye for detail result in his distinctive style and unique voice that is truly refreshing. "I am drawn to the physiological response to flirt with voyeurism, each painting acts as a living television screen, a reminder that we truly are not the center of our own universe; that we are but background actors in an infinite amount of story lines, and we exist in that story often for brief seconds," states DeCaussin. DeCaussin says, "His work has been greatly influenced by the work of painter Edward Hopper and photographer Gregory Crewdson, whose powerful work share similar themes."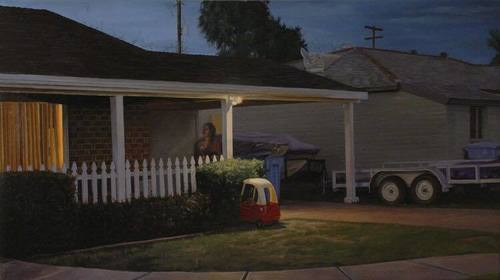 "What will the children think?" Oil on Wood Panel By Cam DeCaussin
DeCaussin was formally trained receiving his Bachelor's of Fine Art in Illustration from Grand Valley State University eventually moving to Arizona where he received his Masters Fine Art in Painting and Drawing from Arizona State University. His work has been featured in numerous group and solo exhibitions including: AZ Biennial Tucson Museum of Art, New City Studios, Fine Art Complex 1101, Chandler Center for the Arts Gallery, Manifest Gallery, Harry Wood Gallery, Mesa Contemporary Art Museum, The Lodge Art Studio, Step Gallery, Shemer Art Center, 13 Contemporary Art Space, and Renmin University. Numerous publications have featured his work: New American Painting West Competition, Inverse Conversations 2015, Creative Quarterly 20, Scottsdale Independent, AZCulture, and Phoenix New Times. The artist currently resides in Phoenix with his wife and he is an Adjunct Faculty at both Arizona State University and Estrella Mountain Community College.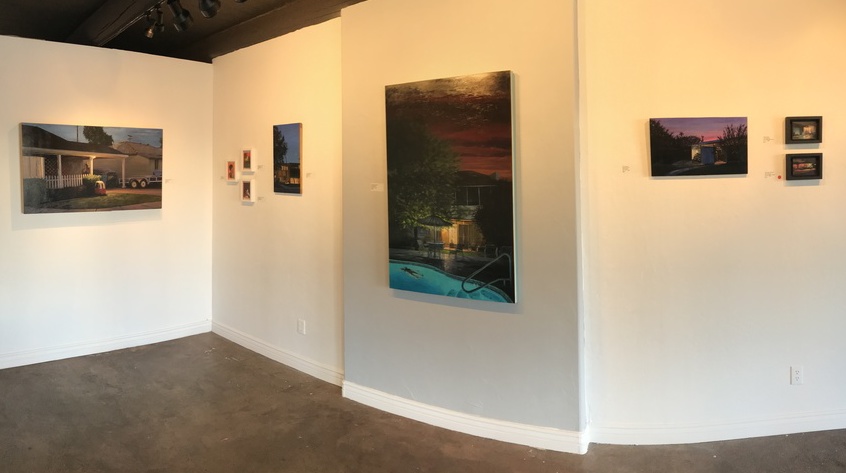 Royse Contemporary is hosting a Closing Reception for "Shades of Evening" at Royse Contemporary Thursday, November 29, 2018 for the from 7:00-9:00pm, coinciding with the weekly Thursday Scottsdale ArtWalk. The final day to see this intriguing exhibition will be this Saturday, December 1, 2018 from 12-4pm. Next up at Royse Contemporary is their first photography exhibition "Exposure: Architecture & Landscape" featuring 4 noteable artists Marilyn Szabo, Andrew Pielage, Peter Brian Klein, and Johnny Kerr.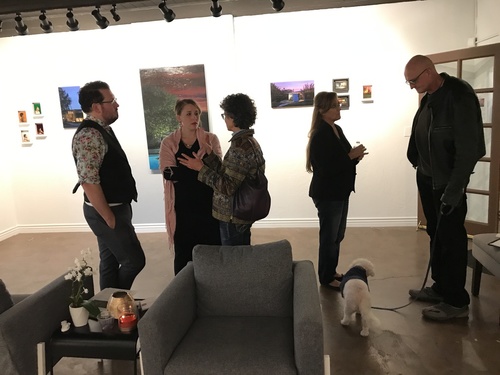 Royse Contemporary is located in the Marshall Square complex at 7077 E. Main Street, Suite 6, Scottsdale, AZ 85251 (located on the south side of Main Street just west of Marshall Way). Royse Contemporary's new fall hours are Tuesday/Friday 9:30-1:30pm, Thursday 7-9pm, Saturday 12-4pm, or by Appointment. *Images are courtesy and copyright of Cam DeCaussin and Royse Contemporary.