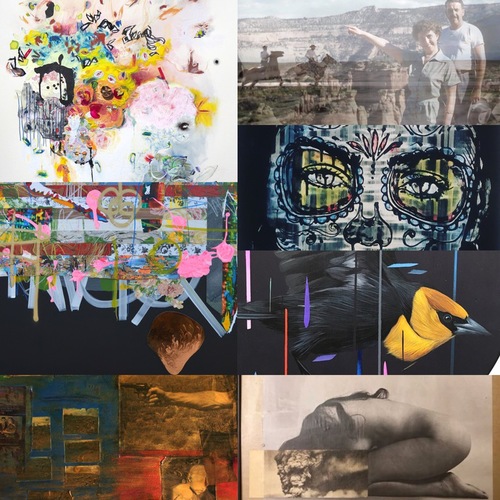 Royse Contemporary hosted a One Year Anniversary celebration on September 13th, kicking off their new season and celebrating their latest exhibition Our History in Old Town Scottsdale. This highly anticipated evening featured a meet and greet with the artists and curator, beautiful live music performed by violinist, Telian Dodge and record attendance.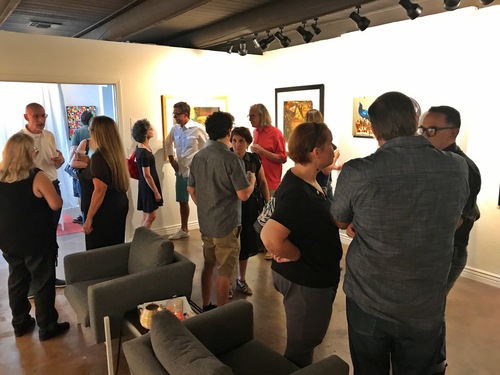 Bustling 1 Year Anniversary Celebration & Artist Reception at Royse Contemporary
Our History showcases an electrifying multi-media group exhibition that explores how artists' today create, share and examine their histories through a contemporary lens. The artists' lives and work share the common bond and passion for art and the influence of the southwest. The work created is compelling and authentic with original styles and captivating subject matter, resulting in art that produces meaning relevant to contemporary issues and life today.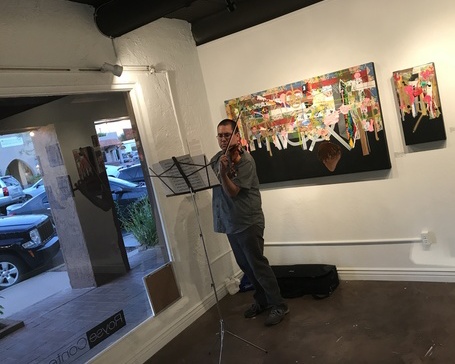 Telian Dodge performs during celebration, Artwork shown by Fausto Fernandez
Our History showcases the work of seven regional contemporary artists, which include Gennaro Garcia, Fausto Fernandez, Frank Gonzales, Cherie Buck-Hutchison, Charmagne Coe, Daniel Shepherd, and Marilyn Szabo. The exhibition features a diverse and eclectic selection of work that includes painting, drawing, photography, collage, and mixed media. This show highlights the artist's energetic styles, eclectic imagery and brilliant color palettes.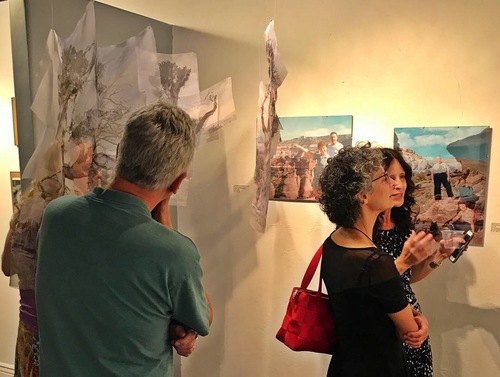 Patrons & Artists Discuss their work and celebrate 1 Year at Royse Contemporary
These artists were selected based on their distinctive voice, ingenuity, and accomplished work, each contributing incredible and diverse artwork to this exhibition, including Cherie Buck-Hutchison's "The Channel of Ancient Wisdon (The Tree of Knowledge of Fact and Ficition) shown above. "It is such an honor to work with this talented group of artists and present this exhibition to celebrate the one year anniversary of Royse Contemporary, states Royse. There is still time to see Our History, which will be on display through Saturday, September 29, 2018.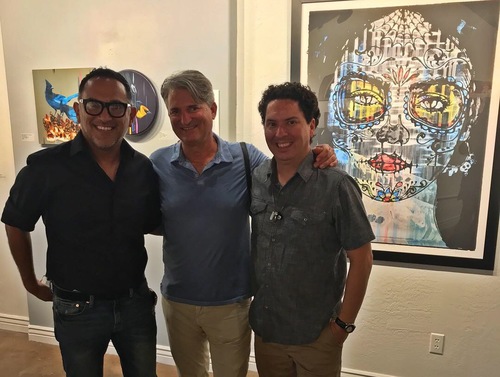 Gennaro Garcia, Robert Sentinery, and Fausto Fernandez
October will showcase "Reinventing Abstraction", a small group exhibition highlighting abstract art that is visceral, authentic and engaging. Featuring the work of four talented contemporary artsits, including Barbara Kemp Cowlin, Victoria James, Jessica Palomo, and Diane Sanborn. Royse Contemporary is located in the Scottsdale Arts District in the Marshall Square complex at 7077 E. Main Street, Suite 6, Scottsdale, AZ 85251 (located on the south side of Main Street just west of Marshall Way). Royse Contemporary is open Tuesday & Friday 9:30-1:30pm, Thursday 6:00-9:00pm, and Saturday 12:00pm-4:00pm. For more information about Royse Contemporary or our featured artists visit roysecontemporary.com. *Images courtesy and copyright of Royse Contemporary.