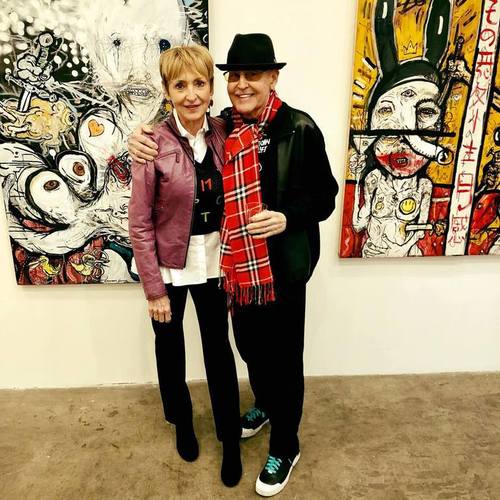 Gail & Fred Tieken
Fred and Gail Tieken are a power couple, highly involved in the arts communities both here in Arizona as well as Los Angeles. They both play many roles, including gallery owner, collector, philanthropist and artist. Fred is a dynamic artist, creating exciting and powerful work, garnering a stellar reputation as an artist and showman over the years. Owning two beautiful contemporary art galleries, the Tieken's split their time between Los Angeles and Paradise Valley.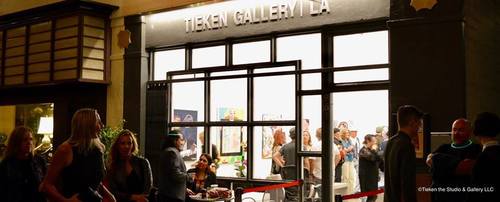 Tieken Gallery LA
Their galleries showcase namesake artist Fred Tieken's bold and expressionistic artwork, in addition to other great national and international artists including Patricia Sannit, Kellesimone Watts, Emmeric Konrad, Richard Kessler and Norbert Guther, just to name a few. Currently the Tieken Gallery LA is exhibiting "Walking on thin ice just to see my reflection" by LA based artist Emmeric Konrad on display through March 31st. April will feature "The 2018 International Co_Works" exhibition created and curated by German Photographer Norbert Guthier April 14 through May 19, 2018.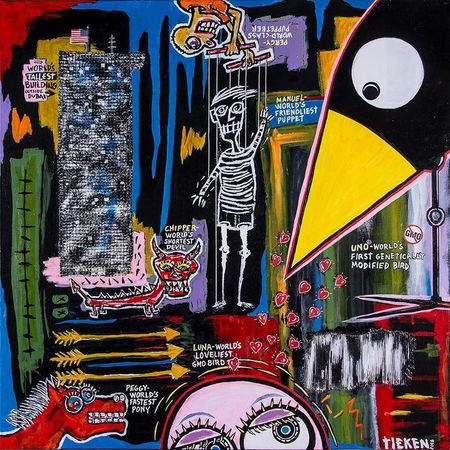 "Speaking In Superlatives" Acrylic, Found Object on Canvas 36 x 36" by Fred Tieken
Fresh off his exhibition at LA Art Show with bG Gallery, Fred returned to Arizona to exhibit in Old Town Scottsdale with Royse Contemporary, marking his first exhibition in Arizona in over a year. In his solo exhibition "TIEKEN Zone - No Rules Apply!" Tieken presented a comprehensive selection of diverse artworks created in the last two years, highlighting the artist's eye for composition, diverse subject matter and poignant commentary.
"Krazy Kitty" Acrylic on Canvas 30 x 40" by Fred Tieken
He has exhibited his artwork nationally in both solo and group exhibitions including Agora Gallery, Aqua Art Miami, LA Art Show, Mesa Contemporary Arts Museum, Neutra Museum & Gallery and Palm Springs Fine Art Fair. His artwork has garnered numerous awards in addition to being featured in numerous publications both online and in print in such publications at Phoenix Magazine, Artillery Magazine and Juxtaposed Magazine.

"The Tieken Zone- No Rules Apply!" at Royse Contemporary
In November Free Arts of Arizona hosted their annual luncheon at the Omni Scottsdale Resort & Spa and announced Tieken as the 2018 featured artist. The Tieken's graciously hosted Free Arts of Arizona Artist Party in early February at the beautiful Tieken Gallery & Studio in Paradise Valley. The "15th Annual Art From The Heart", art auction benefiting Free Arts for Abused Children of Arizona, sponsored by Edward Jones is being held at Saks Fifth Avenue at the beautiful Biltmore Fashion Park in Phoenix next Saturday, April 7, 2018 from 4:30PM-7:00PM. The afternoon will feature heavy hors d'oeuvres, a signature cocktail, live D.J., and a wonderful silent auction of masterful works of art from featured artist Fred Tieken along with additional prominent Arizona Artists.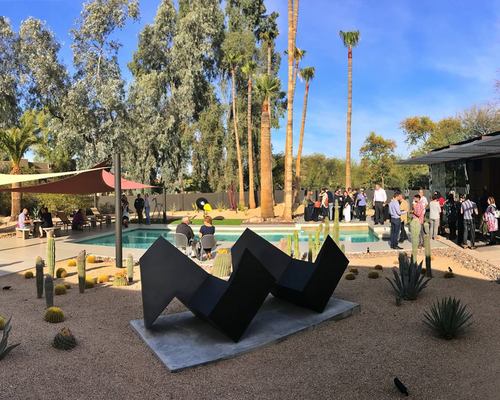 Tieken Studio & Gallery, Paradise Valley
This year's auction boasts more than 70 artists, highlights of the auction include Fred Tieken's "UNO's Dream Pony", Fortoul Brothers, Denise Yaghmourian, Charmagne Coe, Gennaro Garcia, and Marilyn Szabo, just to name a few. "Funds raised through this extraordinary event will support programs such as the Free Arts Professional Artist Series, where artists lead children from foster care group homes and homeless shelters through sessions that teach transferable art skills," states Free Arts. To preview this year's contributing artists or for more information about this event visit Art From the Heart Art Auction (tickets are only $100). Be sure to check out more about Fred Tieken, his amazing art and galleries at fredtieken.com *All Images Courtesy and Copyright of Fred Tieken.