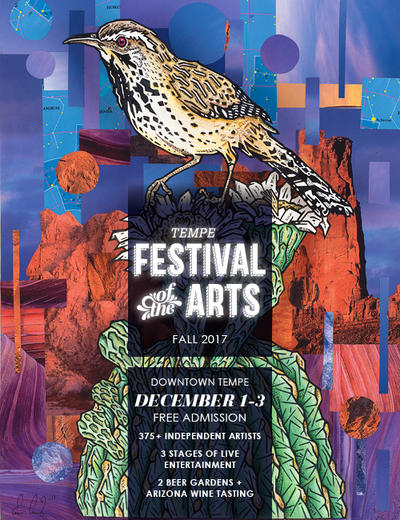 The Tempe Festival of the Arts showcases exceptional visual art and its artists, live entertainment, local beer and wine, and fantastic edibles in a spectacular 3-day event taking place December 1st through December 3rd, 2017. Admission to the festival is Free and they are open daily from 10am to 5:30pm offering visitors the opportunity to explore wonderful Mill Avenue from 3rd Street to University. Since its inception, the Tempe Festival of the Arts has consistently been ranked in the Top 100 Classic & Contemporary Craft Shows in the nation and they are expecting nearly 225,000 visitors this year! Highlighting a diverse and eclectic array of artists working in 16 different visual arts categories including ceramics, jewelry, photography, wearable art, and wood just to name a few.
Mill Avenue will be lined with about 350 artist booths selected by jury, filled with unique, and hand-made artwork that offer visitors a wonderful opportunity to meet the artists and shop an eclectic collection of works. This year's festival featured artist is local mixed media artist Erin Curry, who was selected by a jurying committee. "Curry's one-of-a-kind artwork incorporates Nanoliner ink pen drawings on watercolor paper and wood panels, while she is admittedly afraid of needles, they play an imperative role in creating her 3-D shadowbox artwork."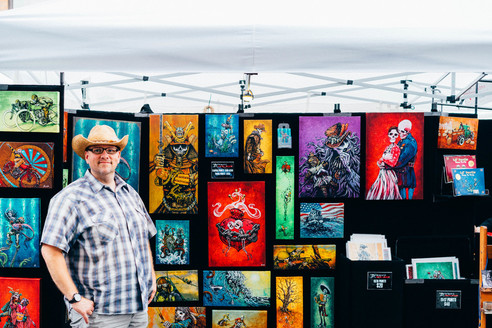 The Fall Festival features delightful live entertainment throughout the event along with street performers, food and beverage vendors, sponsor exhibits, and entertainment booths are set up for the amusement of Festival visitors. Along the streets as well as three different stages will highlight a variety of live music including bluegrass, blues, folk, jazz and rock featuring such artists Bossa Brazil, The Blaise Lantana Band, Walt Richardson, The Hourglass Cats, Desert Dixie, The Brothers Too and other local and regional talent.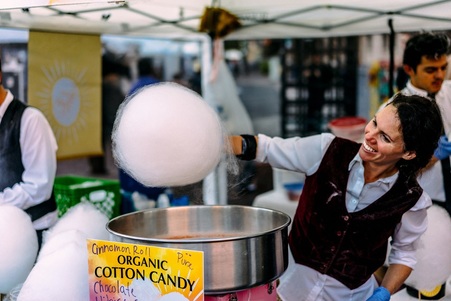 Visit the festival's two beer and wine gardens to enjoy beverages on site. Visit the Arizona Wine Tasting in Centerpoint Plaza for sampling and purchase of featured Arizona wines, including local award-winning wineries like Burning Tree Cellars, Kief-Joshua Vineyards, Pillsbury Wine Company & Vineyard and others. Or raise a glass and toast with beers and brews from Tempe's own Pedal Haus, and Four Peaks Brewing Company. Tickets are available on-site for the beer and wine gardens, as well as online in advance.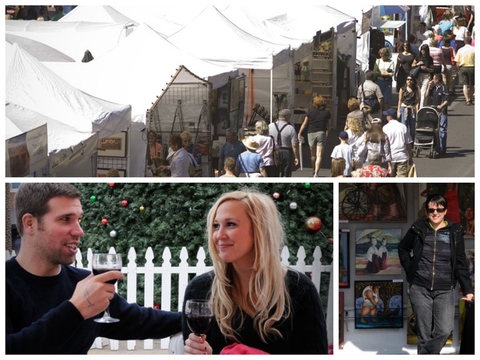 Love food then been sure to check out the "Cottage Edibles" section which includes hand-made gourmet foods, seasonings, cottage crafts and remedies, and festival favorite food. An assortment of fair food and street eats will be on hand including Blue Banjo BBQ, The Crepe Club, Hot Bamboo, Island Noodles -- plus food trucks like Hibachibot, The Maine Lobster Lady, Rockabelly, Yellowman Fry Bread and more.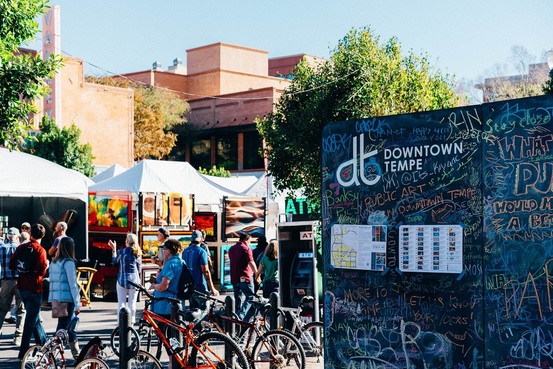 The festival offers something for everyone in the family with kid-oriented programming and interactive exhibits, including Kids Block, a hands-on exhibit featuring artwork from over 400 students throughout the valley, Chalk-a-Lot Street where kids and professionals use chalk to create original murals. Plus there are plenty of things to make and do with Boots in the House, Build-A-Racecar Party, Creative Reuse Arizona, Girls Rock! (a musical petting zoo), Phoenix Youth Circus, Practical Art and more. Plus stop by the ASU Art Museum Ceramics Research Center and Brickyard Gallery (located at the Brickyard on Mill), featuring an interesting gallery space and open storage combination handled by the Ceramics Research Center with a diverse collection of 3,500 ceramic pieces at any one time.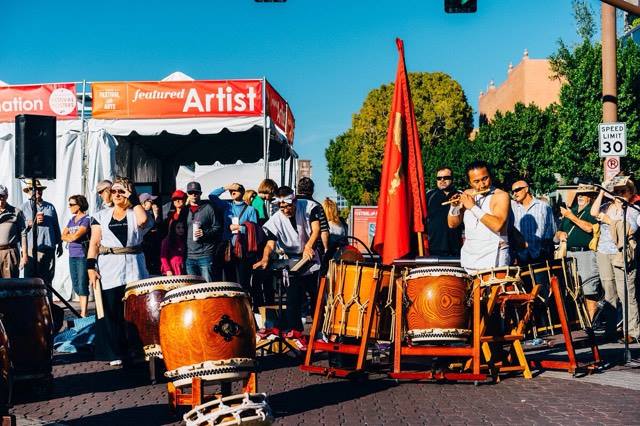 For complete details about this weekend's Fall Tempe Festival of the Arts visit them online at http://www.tempefestivalofthearts.com/ and don't forget to share your photos throughout the festival! *All images courtesy and copyright of Tempe Festival of the Arts.