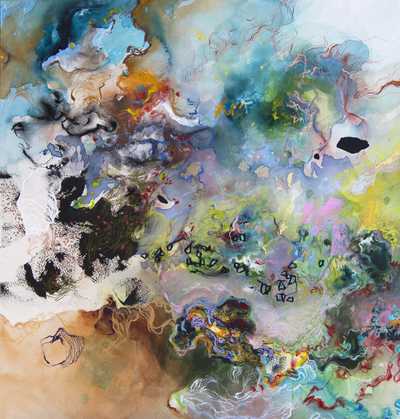 "Thicket" by Charmagne Coe
Chartreuse Gallery hosted the opening reception of The Reaches, the solo exhibition of expressive surrealist Charmagne Coe, curated by Nicole Royse on September 1st during the First Friday art walk in Downtown Phoenix.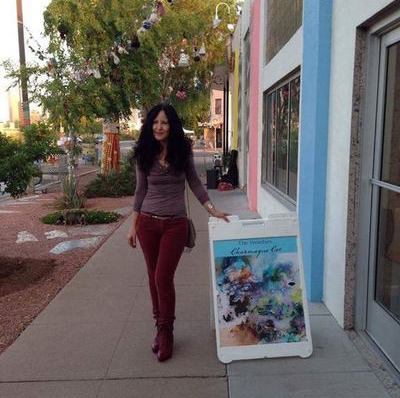 Charmagne Coe, Artist at Chartreuse Gallery
Receiving an excellent turnout and rave reviews of the 20 piece collection many never before exhibited in Phoenix. The Reaches reflects the artist's interests in universality, and the intermingling existences of humans, their structures, flora and fauna and how they form an ever-changing mesh. "This is captured within her alluring mixed media paintings. Each work is a complex tapestry of several culled ideas that spontaneously occur in process and then become a story," remarks Royse.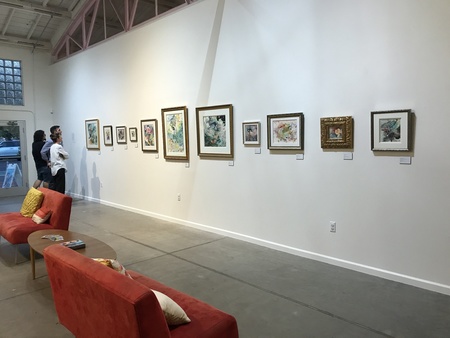 "The Reaches refers to many of my themes and meanderings about necessary connectedness and universality, encompassing ideas of us reaching toward one another, to and beyond our earth, and vice versa," states Coe. "I like the boundless quality of the word, "reaches"; people may relate in their own very personal ways, whether it's how and why they've reached out bravely, tentatively, and even tried to reach themselves." "Shepossesses a free style and the ability to transport her viewers to another world with a brilliant color palette, flowing lines, and simplicity of form. Each is created by utilizing a combination of the mediums, watercolor, ink, and pastel," states curator Nicole Royse.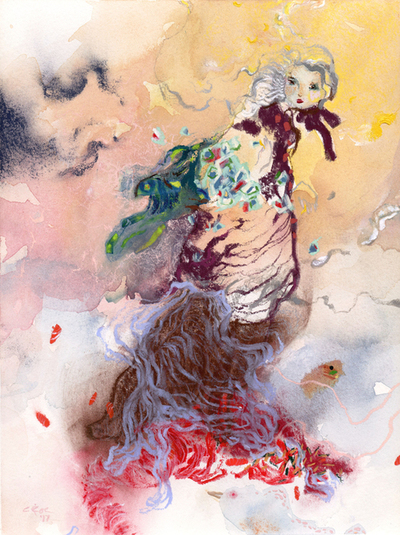 "The Season" by Charmagne Coe
The artist classifies her work as 'expressive surrealism' in which she often explores subject matter, such as the biophilia hypothesis - a human instinct and need to regularly relate with nature - via automatism. Coe explains, "I follow after the spontaneous pulse of the narrative that unfolds right as I paint or draw. It is a completely organic process with lots of twists and turns along the way. Figurative forms appear and disappear in meshed, feeling atmospheres, I am always surprised."
Coe received her Bachelors of Arts degree from Northern Arizona University in elementary education with a minor in fine arts. She has exhibited at the ASU Institute for Humanities Research, Arizona Opera, Center on Contemporary Art in Seattle, and the Coconino Center for the Arts. Her work has been included in numerous publications including Utne Reader, Luxe Interiors + Design, Creative Quarterly, and a full gate-fold album and record art design for notable band, Pausal.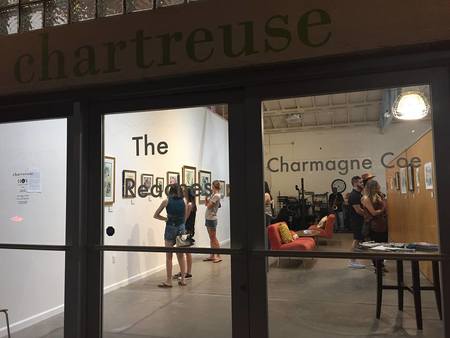 The Closing Reception will be held Third Friday, September 15th from 6-10pm hosted by curator Nicole Royse along with an opportunity to meet the talented artist. The gallery will host additional hours on Saturday September 16th from 10am until 3pm. The Reaches will be on display in Chartreuse Gallery from September 1st through September 17th, 2017. Chartreuse Gallery is operated by Nancy Hill and is located at 1301 Grand Avenue in downtown Phoenix. For more information about Chartreuse Gallery visit Chartreuseart.com or for more about artist Charmagne Coe visit charmagnecoe.com. *All images are courtesy and copyright of the artist Charmagne Coe and Nicole Royse.