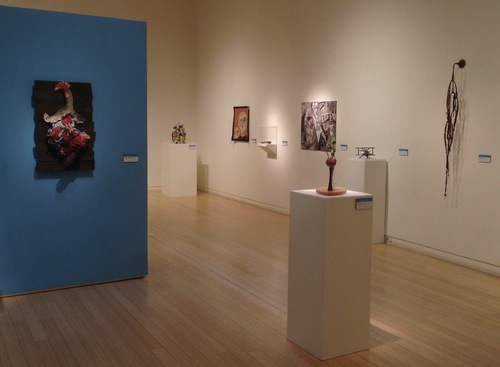 Get down to the Mesa Arts Center and meander through the museum that is currently showcasing a fantastic selection of crafts as they host their 38th Annual Contemporary Crafts exhibition.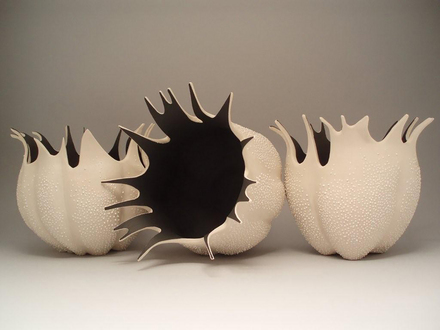 Showcasing 48 artists from 19 states with an impressive array of artwork from artists from around the country, who elevate and push the ideas of contemporary crafts resulting in an engaging exhibition and eclectic collection of work. This exhibition exemplifies innovation and quality in Contemporary Crafts, drawing submissions from all across the country.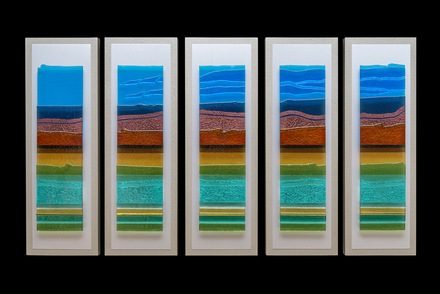 This years show features an incredible 52 artworks in a wide variety of mediums including ceramics, fibers, and basketry, metal, wood, glass, jewelry, and papermaking and book arts.This year's exhibition featured guest juror Stefanie Jacobson Kirkland, who is the Director of Exhibitions and Artists-In-Residence Programs at the renown Craft Alliance Center of Art + Design in St Louis, MO.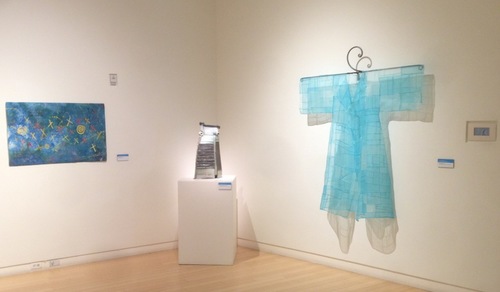 Highlights from the exhibition include local artist Doug Gilles striking kiln worked Glass with dazzling colors and lines. Kazuma Sambe "Neighbors" creating dynamic ceramic sculptures of chickens engaged contained in a bag and box depicted in great detail. While Eileen Braun "Splash Bowls" created from porcelain highlight interesting texture and unique take on the traditional bowl. This exhibition will be on display through April 23, 2017 in the Dobson Gallery.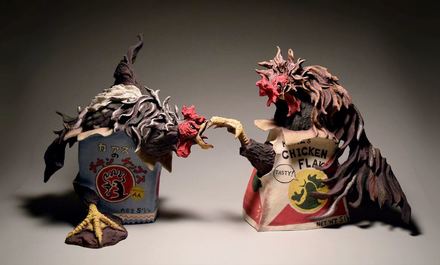 Also on display is "Undesirables" the solo exhibition of South Carolina based artist Katy Berman Cassell. Cassell was the Juror's Choice winner in last year's 37th Annual Contemporary Crafts exhibition. She creates one of a kind jewelry that blends and explores "the interdependence of humans with the biological and botanical worlds." In her latest series, she explores the unpleasant parts of nature like fungus, fossils, wilted flowers and insects. The artist is able to "transform these "base" forms into jewelry, which are conventionally seen as enhancing adornments, her work becomes a reminder of our ephemeral existence and the beauty found in the unending cycle of life," states MCAM.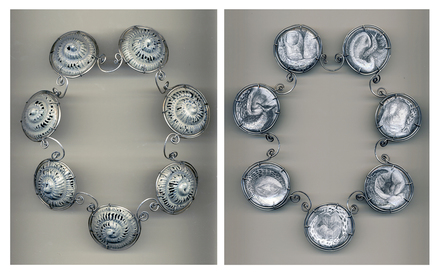 The Mesa Contemporary Arts Museum offers an excellent selection of exhibitions throughout the year, along with a diverse art collection. They are located in the heart of downtown Mesa at One East Main Street. The museum is free to the public (donations appreciated) hosting regular hours Monday through Friday 10 to 7pm, 10 to 5pm Saturday and 12 to 4pm Sunday. Be sure to visit their website for a complete list of exhibitions and upcoming events http://www.mesaartscenter.com/ and follow them on twitter at @mesaartscenter. *All images are courtesy and copyright of Mesa Contemporary Art Museum and Nicole Royse.