Isabelle Posillico is an award-winning jeweler beloved for her elegant and contemporary designs, but her career began in another medium entirely when she moved from Southern Idaho to California to study architectural interior design.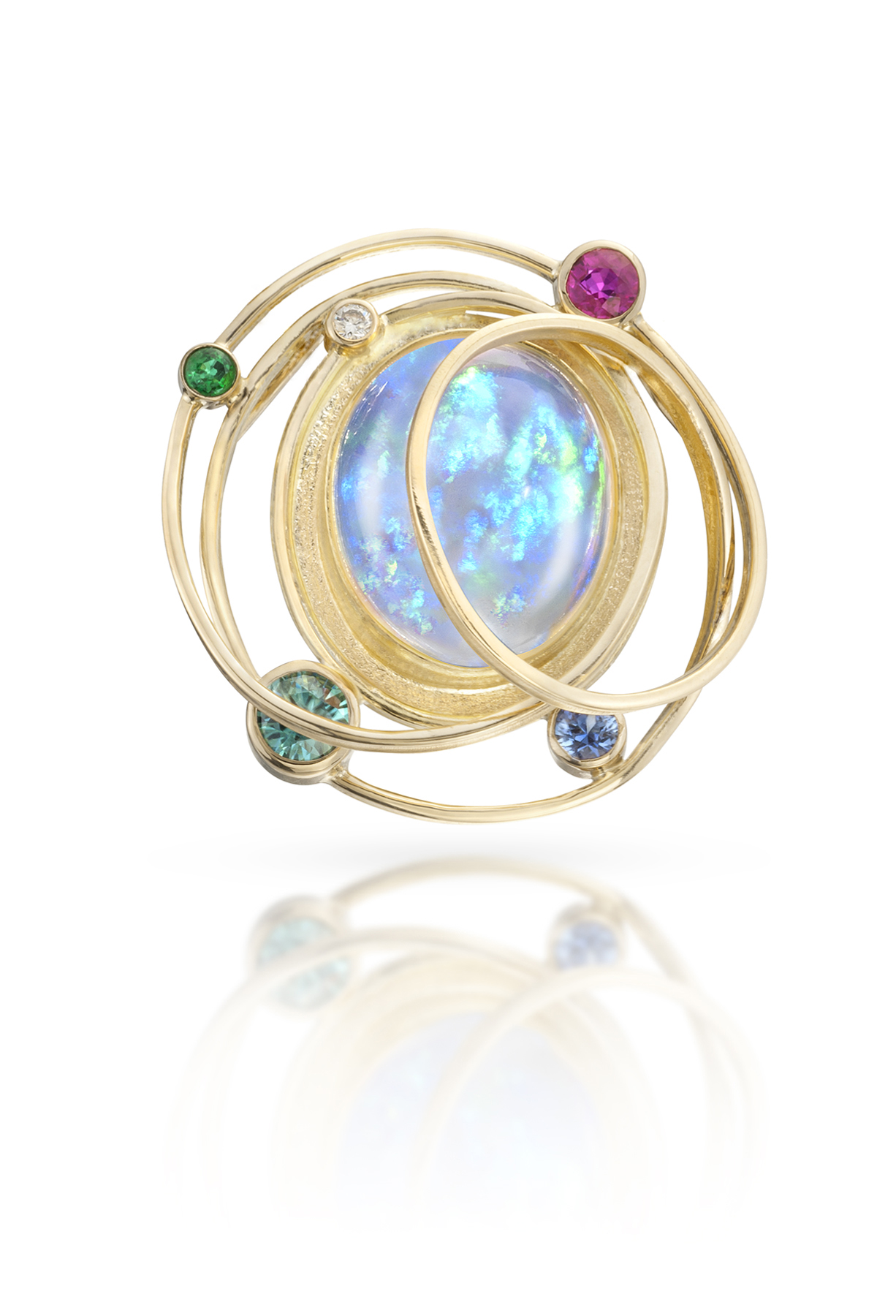 Opal pendant set in gold with ruby, emerald and acqua tourmaline by Isabelle Posillico
For years, Posillico thrived as an interior architectural designer and even helped run a construction company.  She found the work interesting but projects could take years to complete. More and more, she longed to channel her creativity in a more immediate and tangible form. It turns out an introductory jewelry and metalsmithing class was exactly the answer she was searching for.
"I fell in love with working with my hands," Posillico said. "I could design and create something and hold it in my hands within two days, versus two years on a project."
Posillico found the process challenging and exciting, so she continued her studies by devouring instructional books, attending workshops and experimenting. Her formal training in architectural design buoyed her skills and she quickly developed a personal style.
For nearly 25 years, Posillico has sketched, formed and roller printed recycled gold and silver, hand soldering each piece. She continues to be drawn to colorful gemstones, diamonds and pearls to handcraft pretty and practical pieces.
"Elegant contemporary jewelry is what I think about everytime I'm designing and creating," Posillico said. "I'm drawn to timeless, not trendy, designs that are well crafted and can be passed down."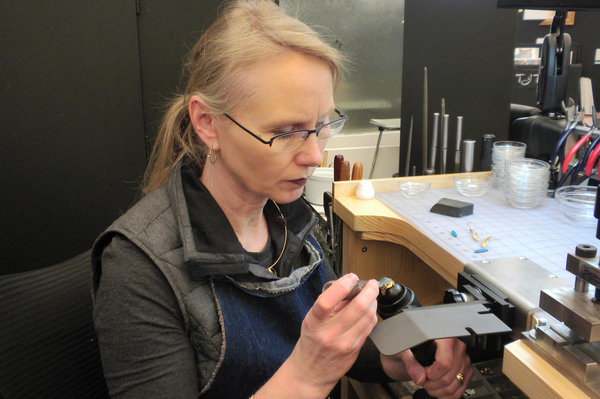 Meet award-winning jeweler Isabelle Posillico, pictured above, at The Celebration of Fine Art
Posillico's works are either one of a kind or part of a series. For instance, her Dance Partner Series incorporates mismatched stones, which she keeps at the same length and color palette to balance out. Her Time Ribbon Series is more structural, while her Lyrical Links Series incorporates a design theme reminiscent of little music notes.
Now in her third year taking part in the Celebration of Fine Art , Posillico enjoys the time and space to design and create timeless pieces for attendees to see and collect.
"People can come visit and see how things are created and I can show them how I compose the pieces," Posillico said. "I love when people pick a piece, smile and put it on."
Meet Posillico and get to know other artists at the Celebration of Fine Art now through March 26th. The show is open daily from 10 a.m. to 6 p.m. Tickets are $10 for adults and $8 for seniors and military members, while children under 12 are free. For show details and information on participating artists, visit www.celebrateart.com.