Have you ever seen a story within a stone? For most, that doesn't come naturally, but for renowned sculpture artist Gedion Nyanhongo, it does. The Zimbabwe-born, Arizona-based sculptor works with opal, springstone and Nyanga stone – all elements native to his country – chiseling away until it reveals a story of love, life and family.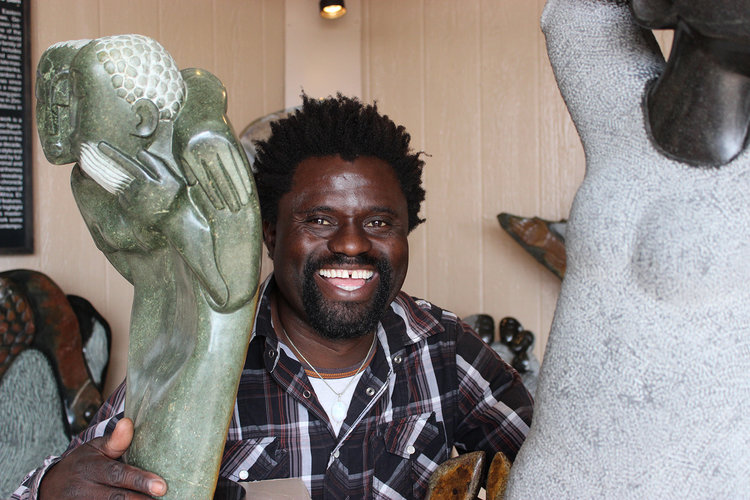 Renowned sculpture artist Gedion Nyanhongo showcases his work at the annual Celebration of Fine Art 
A long-time artist at the annual Celebration of Fine Art, Nyanhongo relishes the opportunity to connect face-to-face with visitors throughout the duration of the show. He joined the Celebration of Fine Art more than a decade ago, and ever since, visitors come to watch Nyanhongo passionately carve hand-selected stones into beautiful sculptures – transforming hard materials into soft, intimate concepts that represent pivotal stages of the human experience. Much of his work centers on family, love and spirituality - values that transcend cultures and promote connectivity..
Nyanhongo describes the beauty of stone sculpting being in the finished masterpiece and its capacity to lift people's spirits, not necessarily its artistry.
"Art in definition, must not only challenge the eyes but must evoke the feelings of the soul and emotion," Nyanhongo said. "I believe sculpture has the capacity to lift people's spirits in a way that can make their lives better."
His favorite part of the journey?
"The transformation from a stone to a finished, message-filled masterpiece is therapeutic and dreamful," Nyanhongo said. "I like the journey which the stone walks me from its original form to its final destination of what it wants to say to the world."
Meet Nyanhongo and the other artists at the Celebration of Fine Art, a 10-week show with 40,000 square-feet of working artist studios. The show is open daily from 10 a.m. to 6 p.m. Tickets are $10 for adults and $8 for seniors and military members, while children under 12 are free. For show details and information on participating artists, visit www.celebrateart.com.