Get in the Valentine's Day spirit early and have a perfect art filled date night this Thursday, February 11th at the Scottsdale ArtWalk from 6:30-9:30pm.
Enjoy the wonderful galleries, eclectic local shops, excellent bars and local restaurants that Old Town Scottsdale has to offer. Check out the great gallery roundup of exhibitions to see this month: Gebert Contemporary Gallery is featuring a small selection of artists including Reece, Richter, Parsons, Merken, Dunaux, Geertsen, Takamura, Buxton, and  Gaddis. Gebert Contemporary specializes in contemporary abstract painting, sculpture, photography and video of an international group of artists. Featuring a rooster of mid-career and established artists with special exhibitions of a small number of emerging artists.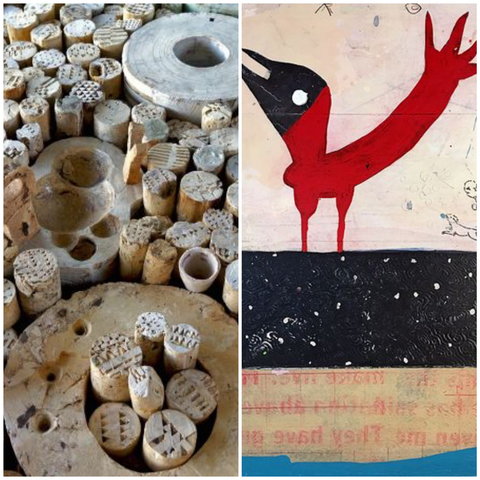 Currently on display is the work of John Randall Nelson exhibition "60, 30, 15, Mèlange" highlighting 15 at Gebert Contemporary in Scottsdale are in part, a survey, a chronology, and a prospective of recent and past work and 2016 marks 15 years of collaboration with Gebert resulting in 15 solo exhibitions in 3 states: Arizona, New Mexico and California. Next up at Gebert is Patricia Sannit's "Time Stands Still" opening next Thursday, February 18th, 2016 with the artist reception from 7pm - 9pm. Her new exhibition features an incredible installation of hundreds of carved and incised clay objects and stacks and towers of cylinders and vessels. "Sannit's work explores issues of the loss of cultural heritage and its preservation in our memories", states Gebert Contemporary. They are located at 7160 E. Main Street, Scottsdale. For more information about Gebert Contemporary Gallery or its artists visit them online at http://gebertartaz.com.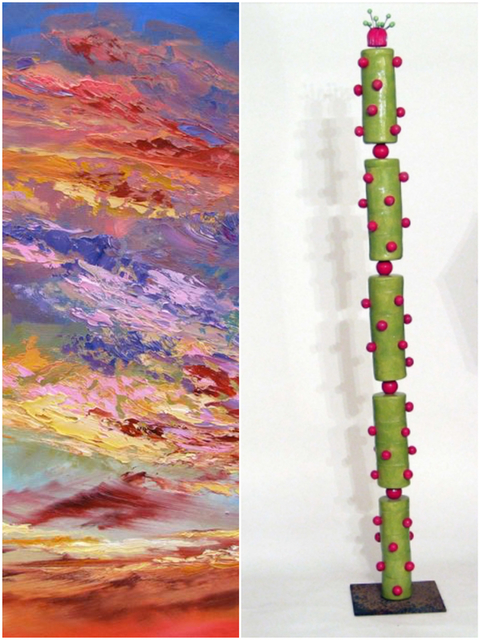 Carstens Fine Art Gallery welcomes guest artist, sculptor Cheryl Brandon exhibiting her striking new ceramic creations titled "Succulent Reflections" which are apart of her "Totem Series" that are vibrant and whimsical placed throughout gallery complimenting Carstens paintings brillantly. Carstens is a very talented artist with tremendous skill creating stunning paintings that "focus and reflect on portraying an awareness of the wide expanses of the sky and the details of nature." She maintains her own fine art gallery and studio that is located at 7077 Main Street #5, Scottsdale and participates in the weekly Thursday night Artwalk opening her gallery to the public from 7-9pm. For more information about Cyndy Carstens our her guest artists be sure to visit her online at http://www.cyndycarstens.com.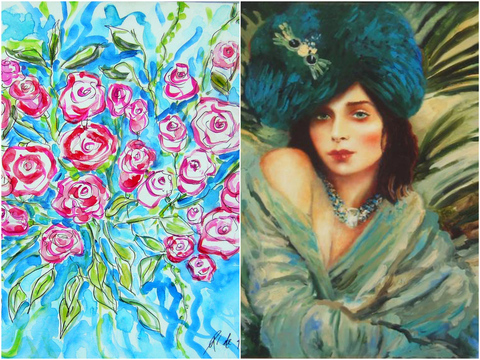 Gallery Andrea currently featuring wonderful Valentine's exhibition "Romantic Flowers" showcasing artists and gallery owners Andrea de Kerpely-Zak and Andrea Zakrzewski with their special series of "Romantic Flower" artworks in honor of Valentine's Day. They are featuring guest artist Joanna Zjawinska with her latest series "Romantic Ladies" works will be on display and both exhibitions provide a wonderful opportunity to pick up a unique gift for yourself or a loved one. Meet the dynamic mother daughter duo when you visit the Andrea Gallery and experience their incredible artwork for yourself! The gallery participates in the Thursday Scottsdale ArtWalk hosting a special reception from 7pm to 9pm each week. The gallery is located at 7019 E. Main Street, Scottsdale and they are open six days a week from 11am to 5pm, closed only on Sunday. For more information about Gallery Andrea visit them online at http://artandrea.com/.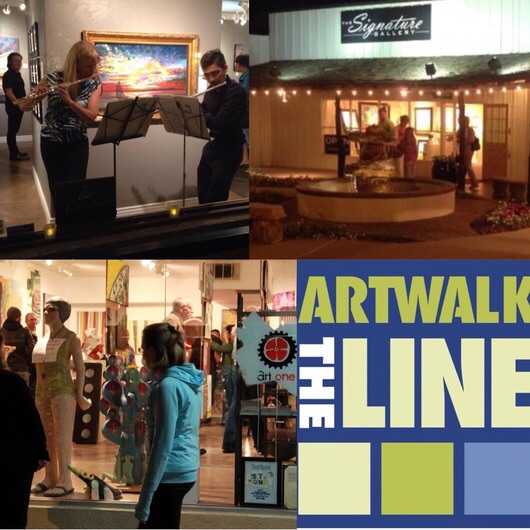 The Scottsdale Gallery Association in partnership with the City of Scottsdale hosts the ArtWalk every Thursday from  6:30 until 9:30 pm. The Scottsdale ArtWalk is located along Main Street and Marshall Way in Scottsdale and visitors can ride the Scottsdale Trolley for free until 9 pm!
 For more information about the Scottsdale ArtWalk or the Scottsdale Gallery Association visit: http://scottsdalegalleries.com. *Images courtesy and copyright of SGA and galleries.