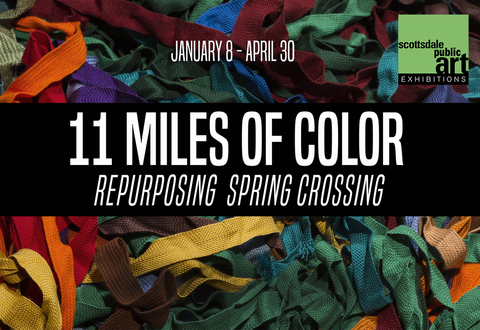 Scottsdale Public Art kicks off the new year with 11 Miles of Color: Repurposing Spring Crossing now on display at the Gallery @ The Library, Scottsdale Civic Center.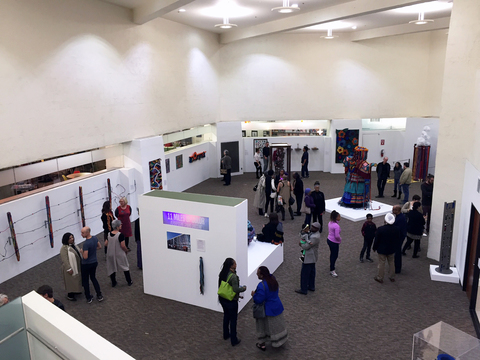 Scottsdale Public Art and artist Randy Walker have chosen eleven Arizona artists to create their own artworks re-purposing the acrylic braid fibers from the Spring Crossing. The Spring Crossing installation was originally created for Canal Convergence 2014 utilizing 11 miles of 35 different colors of acrylic braided ribbon.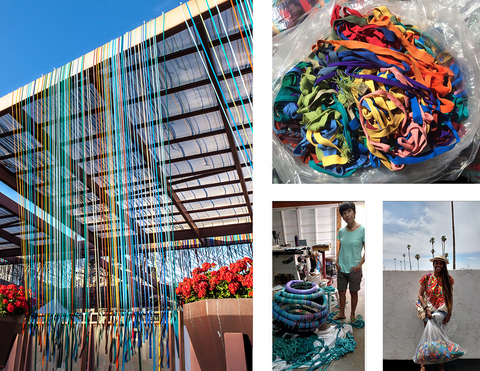 The exhibition features a diverse group of eleven Arizona based artists that work in a variety of disciplines from across Arizona including Jeffrey DaCosta, Amber Doe, Valerie Fair, Sarah Hurwitz, Francine Kavanaugh, Kris Manzaneres, Sharie Monsam, Courtney Richter, Shawn Rost, Katherine Leigh Simpson, and Kristin Wolfe. "The artists have transformed their one mile share of the repurposed ribbons through different techniques including weaving, welding and sculpture, and by incorporating a broad range of materials such as paint, beads, resin and clay; resulting artworks engage the public in a dialogue about art-making, perspective and recycling", states Scottsdale Public Art.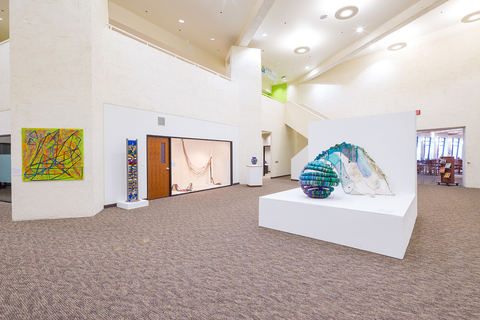 Upcoming events related to exhibition include a free "Mug Rug" Workshop with local artist Sharie Monsam on February 10th from 1:00-3:00pm where patrons can learn to weave a "Mug Rug", all ages welcome! Also don't miss the "Recycle to Mushroom Workshop" with artist Sarah Hurwitz on March 23rd from 3:30-5:30pm where you will make fantasy mushroom sculptures utilizing recycled materials. This workshop is free and open to all ages, but adult supervision needed for youth under 13.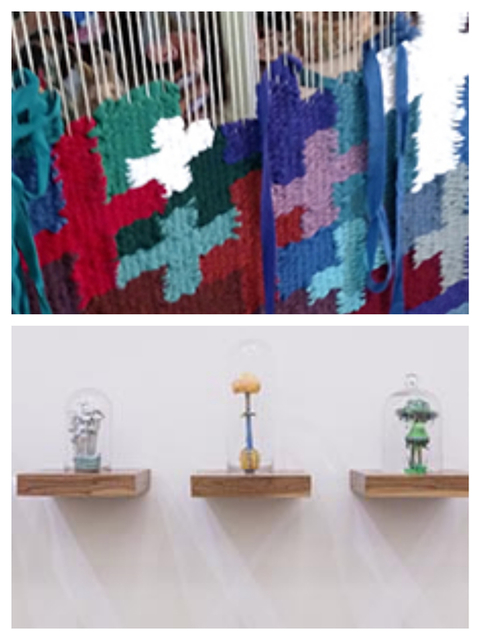 11 Miles of Color: Repurposing Spring Crossing will be on display through April 30th, 2016. A big thank you to the artists for sharing her amazing artwork with the community and for Scottsdale Public Art for giving artists the opportunity to showcase their artwork and engage us on so many levels! Scottsdale Public Art focuses on "bringing engaging artistic, visual, and educational experiences to the public—building community through free, accessible, quality exhibitions", to The Gallery @ The Library located at 3839 N. Drinkwater Blvd., Scottsdale. *Images courtesy and copyright of Scottsdale Public Art and Nicole Royse.