Chaos Theory 15 does not disappoint and definitely lives up to the buzz with a great atmosphere and an overall interesting exhibition that presents quality work. 
For the last 15 years local artist Randy Slack has put together a large exhibition highlighting the amazing artists we have here in Arizona. This large scale exhibition is held at Legend City Studios where he has his own studio. Slack plays dual roles as artist and curator of the show proving challenging as each year this exhibition continues to grow featuring an impressive list of 68 artists. Slack says, "this exhibition has no theme but artists are asked to create a new piece for the exhibition but they have the freedom to choose what they exhibit". This highly trafficked and media covered exhibition.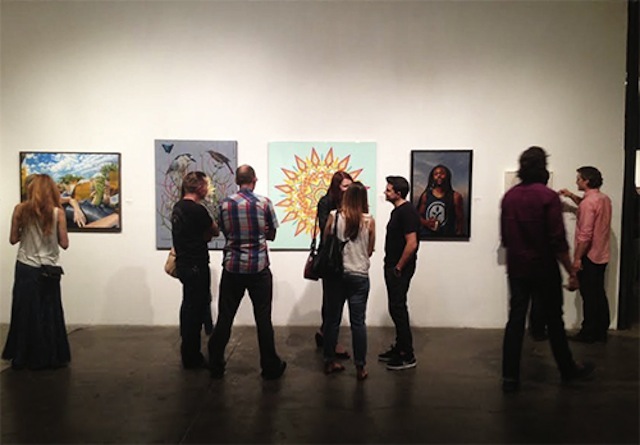 Chaos Theory 15 was held this past First Friday October 3rd experiencing records crowds staying open way past 1am to accommodate the public demand! A majority of the artists were in attendance giving the public the opportunity to speak with artists about their work, as well as an enormous selection of artwork to explore who could ask for a better night! The First Friday Opening on October 4th brought what seemed to be the entire art community out for this exciting exhibition and for the First Friday festivities; it was definitely the place to be seen! Walking through the giant entrance of Legend City Studios, the viewer's attention is immediately drawn to the beauty of this striking 7,000 square foot industrial space, stunning brick walls, cement floors, filled with a copious amount of artwork.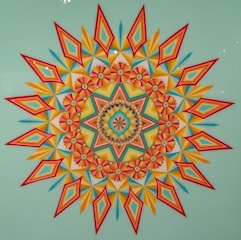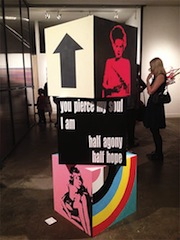 A sense of chaos filled the gallery with high energy along with a dazzling selection of work from 68 local artists that offered an eclectic mix of styles and mediums, since this is "no theme" exhibition. Upon entering Chaos viewers were struck by a video installation projected on the front of the Legend City Studios building by Lauren Strohacker and Kendra Sollars of two vultures moving around that was simply mesmerizing and is apart of the artist's ongoing series "Animal Land". From across the gallery Lori Fenn's stunning painting titled "All Signs Point To Here" draws the viewer in with its bright color palette and beautifully configured pattern of geometric shapes that just dazzles created with acrylic on wood and glass resin. While Kristin Bauer created an intriguing mixed media sculpture titled "What Goes Up must Come Down" presenting captivating text, sharp design, vibrantly colored and eye catching portraits of classic movie stars.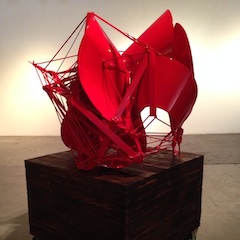 The viewer could not miss the stunning and massive red-banded geometric sculpture titled "hunted" by Pete Deise. As always Randy Slack came through creating a massive eye catching painting titled "California Jamboree, 1985" with a bright color palette, depicting a vintage Volkswagen van with an attractive bikini glad woman surrounded by Disney animals. Did you miss the action on First Friday? Well be sure to mark your calendars and head downtown for the excitement at Chaos Theory 15 on Third Friday, October 17th from 6-10pm!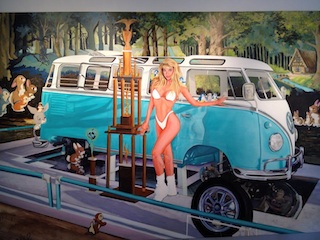 Artwork shown in order are Lori Fenn "All Signs Point To Here", Kristin Bauer "What Goes Up must Come Down", Pete Deise "hunted", and Randy Slack "California Jamboree, 1985".