So many people appreciate art for the powerful mark that each piece leaves on the viewer, but for those who can't see, art can be extremely difficult to connect with.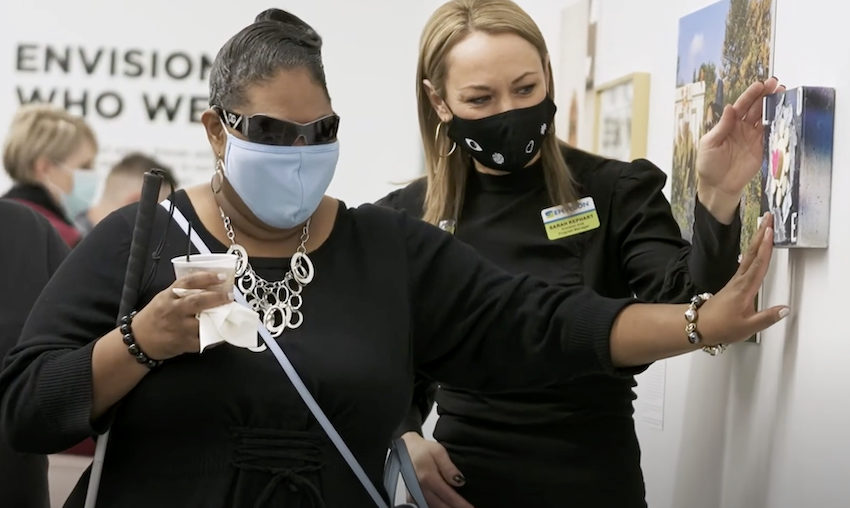 However, Envisions Art Gallery in Wichita, Kansas is bridging the gap between art and the blind community as the first art gallery in the U.S. made by and for blind or visually impaired artists, giving audiences with low or no vision the chance to experience even some of the most famous and profound pieces of art that wouldn't be possible in traditional art galleries.
Unlike art galleries designed for seeing audiences where artwork is behind displays or has to be observed from a distance, every art exhibit at Envisions Art Gallery is meant to be touched. Visitors are able to run their fingers along the materials and textures of each art piece, allowing them to feel and follow every brush stroke, ridge and curve that the artist included. In addition to providing a tactile experience at each display, every piece of art has a QR code that offers a spoken description of the artwork, along with braille of each artist's name and title of the piece.
With the belief that everyone should have the opportunity to express themselves through the arts regardless of their abilities, Envisions Art Gallery's exhibitions are designed to provide a platform for artists with disabilities and share their unique perspectives with the world. Therefore, each exhibit showcases talented artists within the blind, visually impaired or disabled community, and occasionally artists who offer creative and inclusive art experiences.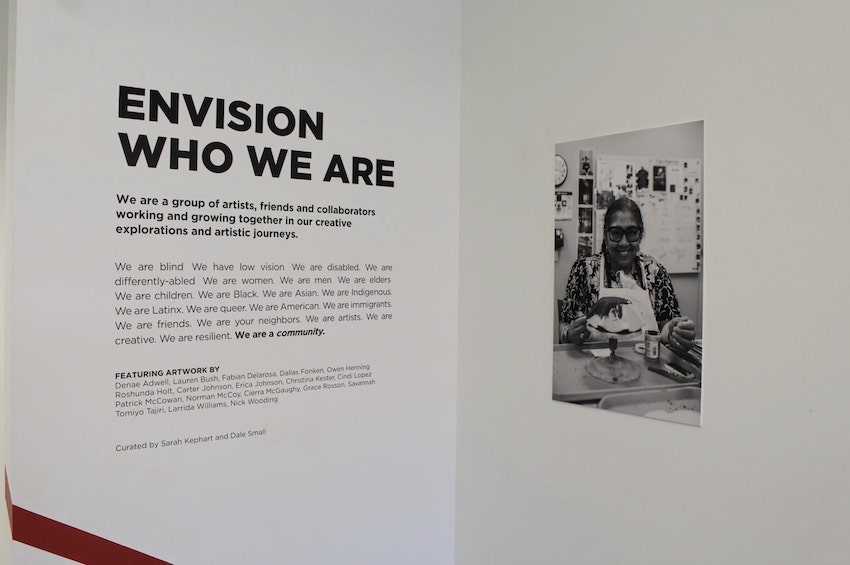 The gallery is an inclusive destination for intersensory art experiences made by artists who are blind, visually impaired and/or disabled.
This summer, the gallery displayed Masterpiece Relief for the Blind, an exhibition that featured artist Tomas Bustos' tactile versions of Starry Night, the Mona Lisa and American Gothic, which transformed famous artwork into an accessible and meaningful art experience for its visitors.
Envisions Art Gallery currently has two exhibitions on display, including HANDS ON featuring artwork by legally blind artist and student Lily Dickson, which will be available through October 27, and a group exhibition titled Art, The Vibe that Connects that runs through September 29.
Upcoming 2023 exhibitions and events at the gallery will showcase multiple artists through a range of art mediums, including painting, drawing, ceramics, collage, multimedia, fabrics, crafts and jewelry.
Envisions Art Gallery is free to visit, with proceeds from merchandise, art and other sales directly supporting its cause and artists. Click here to learn more.