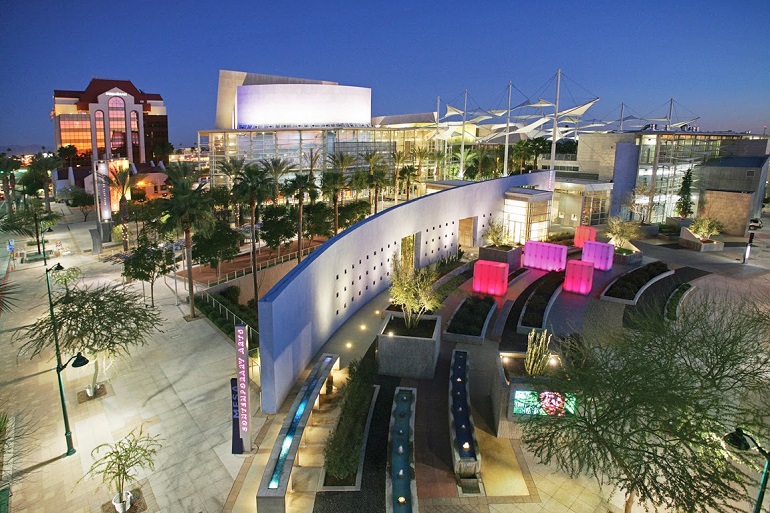 After taking a hiatus in 2021, the eighth annual Southwest Maker Fest (SWMF) will bring a variety of exhibitors to downtown Mesa on February 19! The FREE festival engages visitors in exploring art, science and technology, sustainability, and fun hands-on learning, from Lego creations to casting fossils to 3D printing, from 10am to 4pm, on Macdonald Street just north of Main Street in downtown Mesa.
SWMF exhibitors in 2022 will include a wide variety of creative activities, including fiber arts, virtual reality demos, glass flameworking, tear-apart electronics, painting, t-shirt printing and more. Musical performers will celebrate music-making, and food will be available at and near the event, including the Elote Man food truck, nearby restaurants, and Novel Ice Cream and The Organic Bean Café just north of the festival site. Festival information and opportunities to volunteer can be found at SouthwestMakerFest.com.
Except for some special workshop programs offered throughout the day at HeatSync Labs, a hacker space at 108 W. Main Street (just one-half block west of the festival site), all festival activities are outdoors. Booths will be spaced further apart than usual to enable people to distance from others more easily.
Musical performances will be provided from 10 AM to 3 PM by youth engaged in programs at Alice Cooper's Solid Rock Teen Center in Mesa, including some of the award winners from the organization's annual Proof Is In The Pudding music competition. The lineup of musical acts is:
10:00am-10:45am - Abby Walker https://www.youtube.com/watch?v=s4OiMbct1PY
10:55am-11:40am - Japhar Pullen https://www.youtube.com/watch?v=0Id-sLiQ8UA
12:00pm-12:45pm - Nina and Nick https://youtu.be/TCZ38X3Akew
12:55pm-1:40pm - Jordy Alejandro https://www.youtube.com/watch?v=XEmV5YS-r-k
1:50pm-3:00pm - Breaklot https://www.youtube.com/watch?v=JlXDPFhpeQk
In celebration of Southwest Maker Fest and a day full of creativity in downtown Mesa, the Arizona Museum of Natural History and i.d.e.a. Museum, both located just steps away from the festival site, will offer half-off admission fees that day. i.d.e.a. Museum's special exhibition is Imagine, Design, Build, which enables makers young and old to immerse themselves in architecture and the art of building. Arizona Museum of Natural History, known as "the dinosaur museum," also features anthropology, geology and more. For more information visit ideamuseum.org and azmnh.org.
This collaborative one-day festival and community of makers seeks to achieve Southwest Maker Fest's vision of a connected community, empowered by creativity. SWMF's mission is to celebrate, engage, and inspire the maker in each of us. The eighth annual festival is easily reachable from the Center Street or Country Club stops on Valley Metro Light Rail, and there is plenty of free parking nearby.
The "maker" movement is booming in the U.S., with very large events held annually in New York, the Bay Area, and numerous other major metropolitan areas. Southwest Maker Fest celebrates makers, innovation and creativity, and builds upon the growing Do-It-Yourself movement and a thirst for active experiences. Organizers have developed SWMF to build on our state's strength as a fertile location for new ideas and entrepreneurial spirit.
Southwest Maker Fest is once again a signature event of the Arizona SciTech Festival and is presented in partnership with the Downtown Mesa Festival of the Arts. The event is held under the auspices of Ultimate Imagination Inc., the 501(c)3 non-profit arm of the Downtown Mesa Association. Event sponsors and partners include Mesa Recycles, Visit Mesa, Mesa Vice Mayor Jenn Duff, DYF Investing, Bookmans Entertainment Exchange, Neighborhood Comedy Theatre, HeatSync Labs, The Collaboratory, Arizona Museum of Natural History, i.d.e.a. Museum, Mesa Arts Center, Alice Cooper's Solid Rock Teen Center Mesa, City of Mesa and Downtown Mesa Association.
Event details and volunteer sign-up are available at the event website at SouthwestMakerFest.com