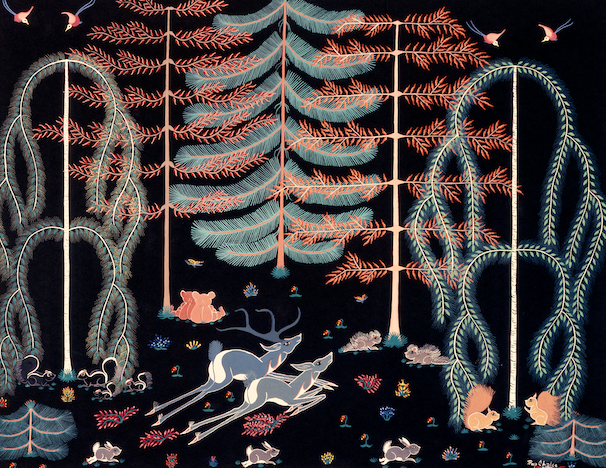 Heard Museum Announces Next Grand Gallery Exhibition Remembering the Future: 100 Years of Inspiring Art
Original Exhibition Highlights the Healing and Lasting Role of Art
Remembering the Future: 100 Years of Inspiring Art will showcase painting and sculpture produced by leading American Indian artists of the 20th and 21st centuries. Each work in the exhibition will be drawn from the Heard Museum's permanent collection and will largely reflect an artistic response to the challenges and opportunities of the decade in which it was created. Select works include T.C. Cannon's response to the Vietnam War in the lithograph On Drinkin' Beer in Vietnam in 1967 (1971) and responses to environmental crises evident in Bob Haozous' sculpture Ozone Madonna (1989) and Jaune Quick-to-See Smith's painting Rain (1990). The exhibition will also feature Oscar Howe's response to the 1890 massacre at Wounded Knee in the painting Ghost Dance (1960).
Fine-art masterpieces from the museum's collection have been selected as art to inspire people during this challenging time and help them reflect on the times in which we are living. The artwork will be contextualized further within important artistic movements, such as Awa Tsireh's paintings from 1917 through the 1920s that sparked the San Ildefonso Watercolor Movement or the numerous students—Fred Kabotie, Tonita Peña, Gerald Nailor, Allan Houser—who attended Dorothy Dunn's Studio School in Santa Fe in the 1920s. Central to the New York Contemporary Native American Art Movement are the midcentury paintings of George Morrison. Some of the artists who fostered important artistic developments from the 1970s onward include Joe Herrera, Fritz Scholder, Helen Hardin, James Lavadour, James Schoppert, Kay WalkingStick, Roxanne Swentzell, Tanya Lukin Linklater and Kent Monkman.
Presented in the Virginia G. Piper Charitable Trust Grand Gallery and curated by Diana Pardue, chief curator, and Dr. Ann Marshall, director of research, the exhibition features more than 80 works that illustrate a progression of ideas and aesthetic expressions by the renowned artists mentioned here and many more. Remembering the Future will be a visual testament to 100 years of artistic production. The span of one century is meant to convey, with meaningful depth of perspective and certitude, that in remembering the history of American Indian art, we are also remembering the future.
The exhibition will open on Saturday, Oct. 23, at the Heard Museum's annual fundraising gala, Moondance. Chaired by local arts advocates and philanthropists Jan Cacheris and Marilyn Harris, the Moondance gala will honor the artistic accomplishments of acclaimed jeweler Denise Wallace (Chugach Sugpiaq/Alutiiq) and longtime Heard Museum supporters and institutional leaders Mary Ellen and Robert H. McKee. For more information about the gala, visit heard.org/moondance.