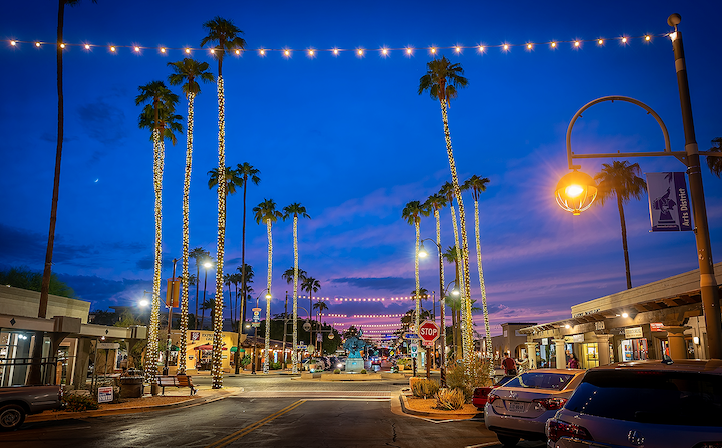 Scottsdale Gallery Association Introduces "Artistic Variety" Gold Palette ArtWalk
Guests Can Explore Wide Array of Talent in Old Town Thursday, February 11
The Scottsdale Arts District, which resides along Main Street from Scottsdale Road to Goldwater Boulevard and north of Indian School on Marshall Way to 5th Avenue, boasts a wide array of artistic talent across multiple mediums. And on Thursday, February 11, the Scottsdale Gallery Association's member galleries are participating in the "Artistic Variety" Gold Palette ArtWalk to showcase them.
"Through our long-running ArtWalk series and all our art-centric events, we work to share the incredible talent of the Scottsdale art community with residents and visitors alike," says French Thompson, president of the Scottsdale Gallery Association (SGA) and owner of French Designer Jeweler. "Many of our member galleries not only represent world-class talent, they themselves create it, and it's in part our mission to connect art aficionados with these art representatives and artists in their own right. The Artistic Variety ArtWalk is yet another opportunity to do just that. "
From 6:30 p.m. to 9:00 p.m. during the Scottsdale Gallery Association's "Artistic Variety" Gold Palette ArtWalk, guests are invited to explore the depth and range that Scottsdale's most popular art galleries feature. From local to international talent across mediums including sculpture, painting, resin, steel, pottery, glass, jewelry, 3D, small and large format, and more, art of nearly any form and style can be found within Scottsdale's treasured Arts District. And it will be on full display for visitors to enjoy and take home to add to their own artistic collections.
Throughout the evening, participating galleries will be highlighting the variety and creativity of the artists they feature. On the Edge Gallery, for example, features a variety of contemporary art such as glass art from Lynn Gustafson; lamp art by Patrick O'Brien, an electrician by trade who turns old artifacts such as fans and coffee grinders into lamps; vibrant acrylic and oils by Barbi Niblick and many more. Legacy Gallery represents more than 100 nationally recognized artists specializing in paintings and sculptures in a wide variety of subject matter such as western, figurative, wildlife, still-life and landscape. French Designer Jeweler boasts cases of highly original and sought-after baubles including rings, bangles, pendants, and earrings from internationally known artists that are true statement pieces.
The Gold Palette ArtWalk brings together the finest art in Scottsdale including 28 galleries and two museums — Scottsdale Museum of Contemporary Art and Western Spirit: Scottsdale's Museum of the West. The Scottsdale Gallery Association hosts its weekly ArtWalk most every Thursday evening from 7:00 p.m. to 9:00 p.m. In partnership with the City of Scottsdale, the SGA also presents eight Gold Palette ArtWalk events per year that feature a dedicated theme and activities specific to the theme including demonstrations and more. For more information, visit www.scottsdalegalleries.com.
About the Scottsdale Gallery Association:A nonprofit organization, the Scottsdale Gallery Association (SGA) consists of gallery owners that promote fine art galleries in the Scottsdale Art District. Scottsdale is home to more than 100 galleries dedicated to exhibiting the finest visual art from around the world as well as local Arizona art. The galleries offer a diverse array of works in a wide variety of mediums. SGA members strive to make art accessible to all, from the serious art collector to the casual art patron. Scottsdale's ArtWalk events began in 1975 to give guests an opportunity to enjoy featured artists at the galleries, a vibrant cultural environment, entertainment and refreshments. For more, visit www.scottsdalegalleries.com.