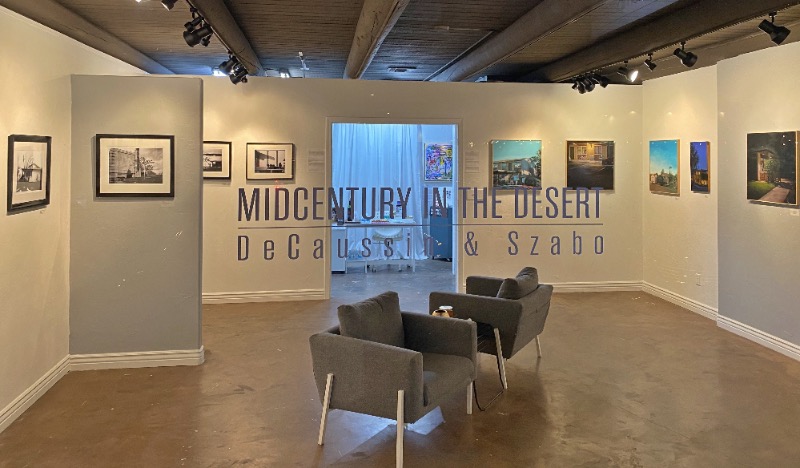 Go back in time and enjoy the fasinating new exhibitioin "Midcentury in the Desert" at Royse Contemporary in Old Town Scottsdale. Explore the midcentury architecture found thorughout the valley captured both in film and on canvas!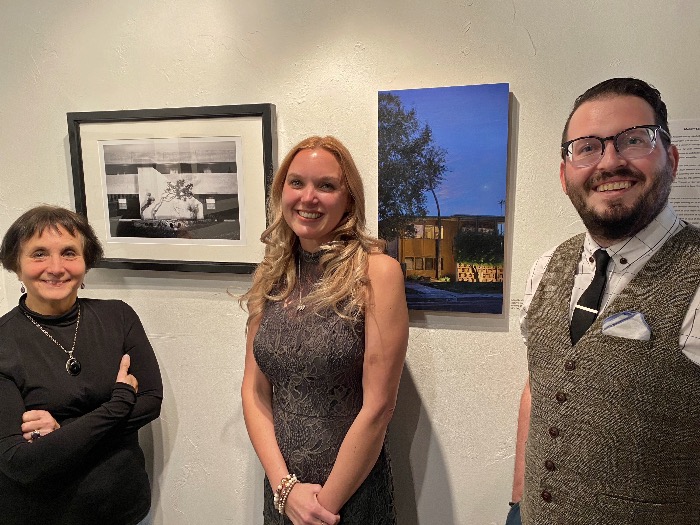 Shown here left to right: Marilyn Szabo, Nicole Royse and Cam DeCaussin at Royse Contemporary
Reflecting upon the influences and prevalence of midcentury architecture here in the desert of Arizona, Royse Contemporary's latest exhibition "Midcentury in the Desert" blends the dynamic work of two local artists and mediums. Their masterful artwork highlights the beauty of the architecture and desert, accentuating the artist's use of imagery, engaging style, and strong voice. You are invited to explore the photorealistic oil paintings of Cam DeCaussin and the stunning black and white photography of Marilyn Szabo. These talented artists are creating phenomenal work, capturing the beauty and essence of the architecture within the landscape, while truly connecting with their viewers.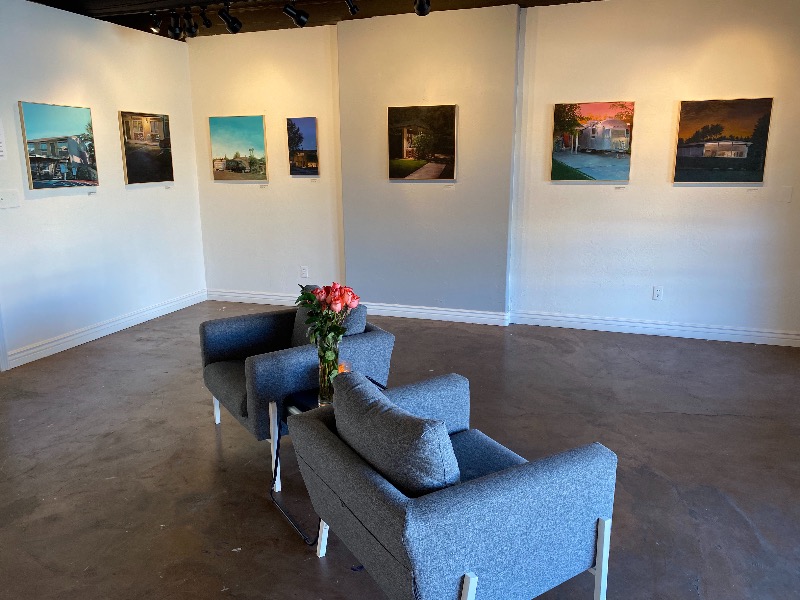 Cam DeCaussin is a highly skilled oil painter with a keen eye for detail and an incredible ability to capture the energy and mystery within his subjects. His work is inspired by empty, quiet living spaces and their ability to express themes of solace, sadness, separation and contemplation, influenced by the work of painter Edward Hopper and photographer Gregory Crewdson. Formally trained in the arts receiving his Bachelors of Fine Art in Illustration from Grand Valley State University and Masters of Fine Art in Painting and Drawing from Arizona State University. DeCaussin has exhibited both nationally and internationally including Mesa Contemporary Art Museum, Shemer Art Center, and Renmin University. DeCaussin currently resides in Phoenix and is an Adjunct Faculty at both Arizona State University and Estrella Mountain Community College.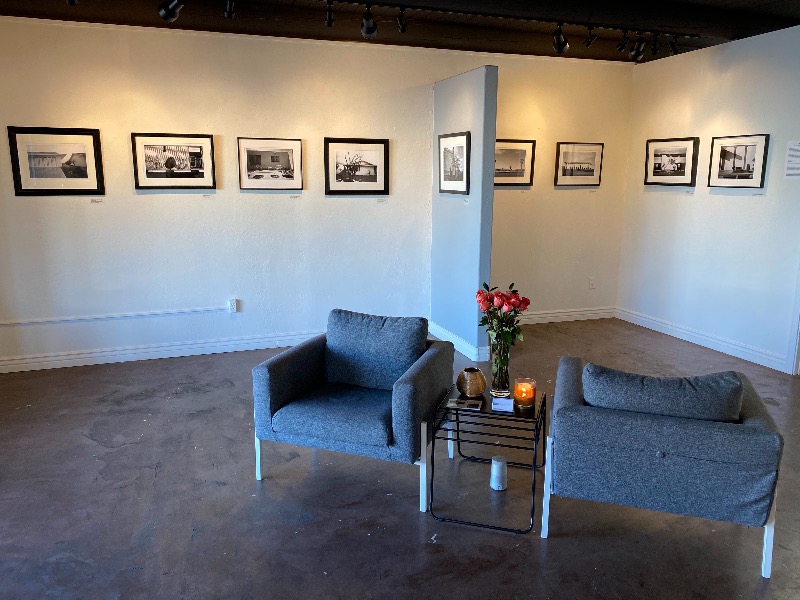 Marilyn Szabo is a true creative force in Arizona culture and has worked for over twenty-five years as a photographer. Her photographic subjects vary, and her work has been praised for its depth, craftsmanship and versatility. She received her Bachelors in History from Virginia Commonwealth University with a minor in Photography. Szabo has exhibited both nationally and internationally and can be found in many public and private collections. Her work has garnered prestigious awards and grants (including five from the arts commission), plus she received the Alligator Juniper's 2010 National Photography Award and cover. She currently resides and works in Phoenix, working on her latest book and photography projects.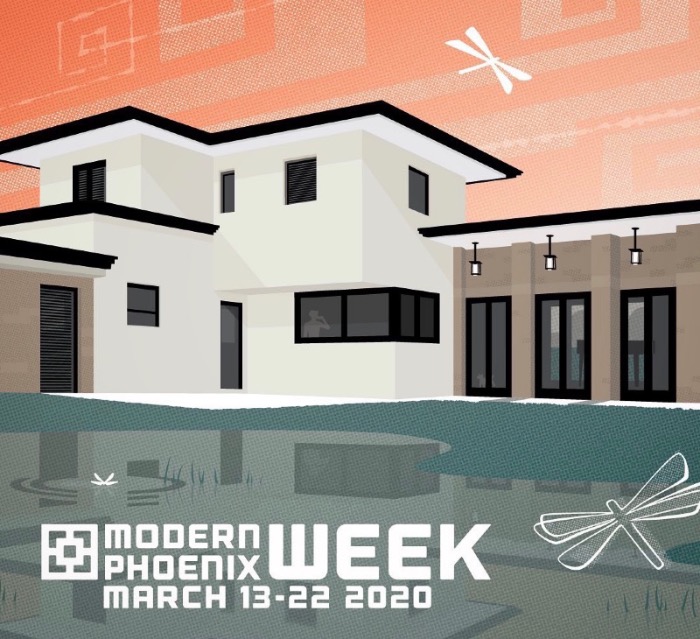 Royse Contemporary Partners with Modern Phoenix for an exciting Closing Reception for "Midcentury in the Desert" this Saturday, March 14, 2020 from 4:00-7:00pm. This special reception will include an opportunity to meet the curator Nicole Royse and featured artists: Marilyn Szabo and Cam DeCaussin. The artists will speak about their latest work and current exhibition with an opportunity for questions and further insight into their work. Enjoy a fabulous afternoon of art along with light hors d'oeuvres and refreshments at Royse Contemporary as they celebrate "Midcentury in the Desert".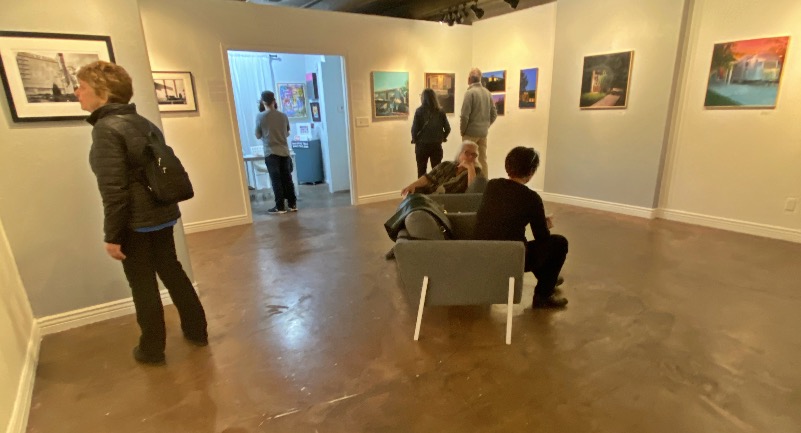 Royse Contemporary is located in the Scottsdale Arts District at 7077 E. Main Street, Suite 6, Scottsdale, AZ 85251. For more information about Royse Contemporary visit roysecontemporary.com.