Portal by Shared Studios
Head to Downtown Tempe to experience the Portal, a dazzling gold shipping container boasting an exciting immersive, interactive audiovisual experience connecting to a network of sites around the world. Don't miss this incredible project linking communities around the world, allowing us to engage and connect with one another on a new level.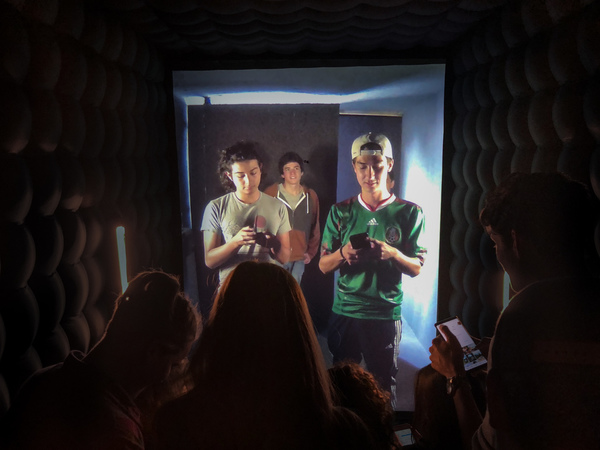 Inside the Portal
Downtown Tempe is the latest location to welcome the Portal, who has been working for over a year to bring this amazing project to the Valley! "Portals are physical structures that bring people together who would never otherwise meet, separated by distance and difference for conversation, education, collaboration, and play", states Shared Studios. Created by Shared Studios, a multidisciplinary art, design and technology collective building an Internet you can walk through. "This extraordinary temporary installation is kind of like Facetime on steroids, and there's no way to explain it, you should just come experience it for yourself," exclaims Julie Kent, Director of Placemaking for Downtown Tempe.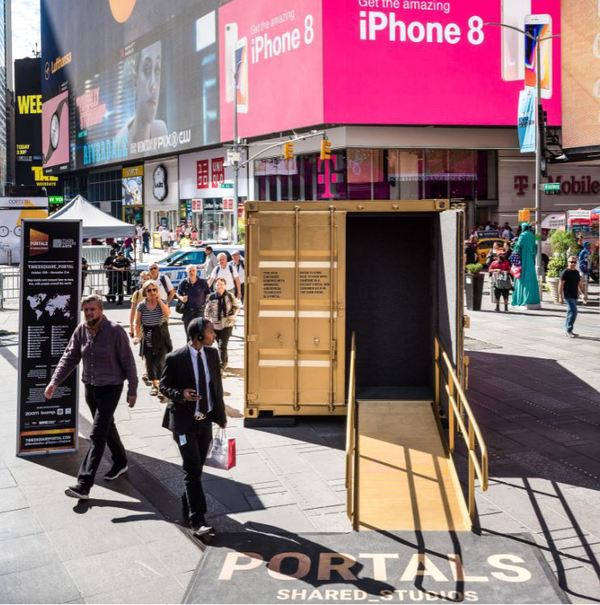 Portal located in New York City
Shared Studios has Portal sites all around the world including Puerto Rico, Rwanda, Mexico City, Afghanistan and more. When you enter a Portal, you come face-to-face with someone somewhere else on earth, live and full-body—as if in the same room. Up to ten people can fit inside the Portal at a given time, and guests are encouraged to experience, inspire and explore with others by sharing a hosted meal, art performances or music, or simply connect and have conversations with others from around the globe. Each Portal has a local curator on site to assit you and inspire conversations where you will make connections and dispel myths about other cultures.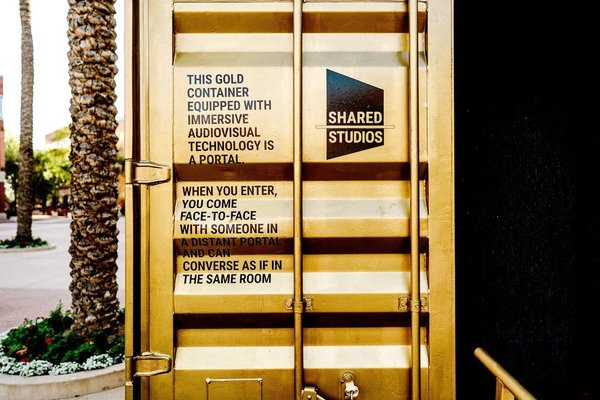 Exterior of Downtown Tempe Portal
To visit the Portal is FREE and you may walk up or schedule a specific time to connect with other Portal users from around the world at a specific date and time (register here). The Downtown Tempe Portal is located in the heart of Downtown Tempe at Centerpoint Plaza, 660 S. Mill Ave, Tempe, AZ 85281. Featuring daily hours Monday through Thursday from 11:00am to 2:00pm, Friday from 11:00am-2:00pm & 5:00-10:00pm and Saturday/Sunday 12:00 to 5:00pm.
Connect with people around the world through the Portal
The Downtown Tempe Portal will be open to the public through March 31, 2019. Generous funding for this special project and programming was made possible by the Downtown Tempe Authority, Shared Studios, City of Tempe, Arizona State University, and APS. Be sure to share your #TempePortal experience on social media and follow @DowntownTempe and @Shared_Studios. To learn more information about the Downtown Tempe Portal or Shared Studios visit them online *Images are courtesy and copyright of Downtown Tempe Authority and Shared Studios.