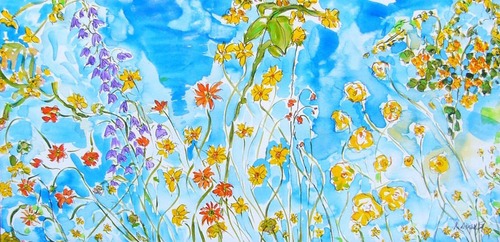 "Healing Fields of WildFlowers" By Andrea de Kerpely-Zak
Get lost in Spring Wildflowers at Gallery Andrea this month, as Andrea de Kerpely-Zak debuts a special new series of Wildflowers that includes African Daisies, Mexican Gold Poppies and more. Visit Gallery Andrea and experience their incredible artwork first hand and explore the Scottsdale Art Walk!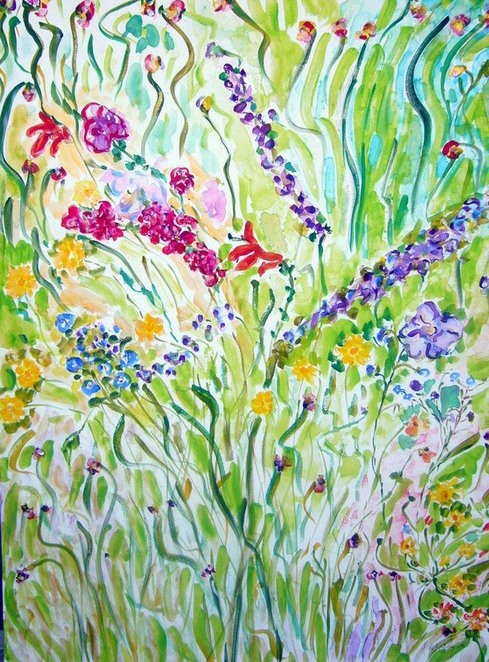 "Spring Garden"
She is known for her colorful and delicate impressionist "Healing Flowers" that symbolize freedom and healing, which she has been creating for over 35 years. Her daughter and gallery partner, Andrea Zakrzewski will also have work display, painting akin to her mother utilizing a palette knife reflecting a loose impressionistic style. She is also the fashion designer of Artsyandreaz Floral Fashion creating custom designed floral wearable art available at the gallery and online at Andreazfloralfashion.com.
Andrea Zakrzewski wearing Artsyandreaz Floral Fashion
In addition to "Spring Wildflowers" Gallery Andrea is showcasing fantastic "Musical Art" by Lori Mole. Mole takes her love of musical instruments and art and captures them in a whimsical way. Her artwork is collected by music lovers of all generations. She regularly exhibits in juried and invitational shows throughout the United States. Gallery Andrea will host a special reception on Thursday, March 21stfrom 7-8pm where you will have the opportunity to meet the mother daughter duo!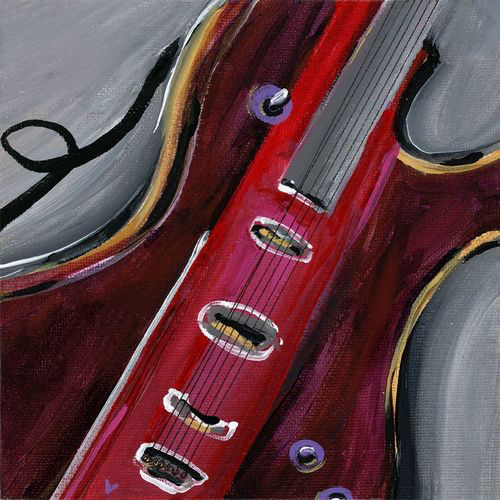 "Rock On" By Lori Mole
A staple of the Scottsdale art scene in Old Town Scottsdale's Gallery District since 2004, Gallery Andrea is owned and operated by international artist Andrea de Kerpel and her daughter Andrea Zakrzewski. Gallery Andrea showcases diverse variety of artwork and styles, in addition to a small rooster of artists that are local, national and international. These wonderful exhibitions will be on display through March 31, 2019.

Gallery Andrea is located at 7019 E. Main Street, Scottsdale open daily from 11am to 5pm, Thursday 7pm to 9pm, closed only on Sunday. For more information about this exhibition or Gallery Andrea visit http://artandrea.com/.* All images are courtesy and copyright of Gallery Andrea.