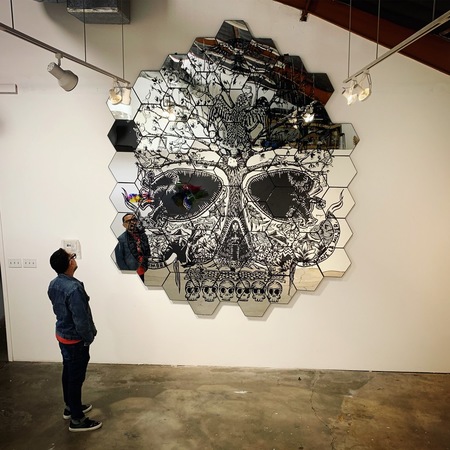 Garcia with "De la tierra es el hombre del agave la mujer" Photo by Juan Loza
Seasoned artist, advocate, and chef, Gennaro Garcia has brilliantly melded together all of his passions into an amazing life here in the valley. In his latest solo exhibition, You Are Art now on display at Royse Contemporary in Scottsdale, the artist showcases his most recent collection of vibrant multi-media work.
Gennaro Garica in his art studio in Phoenix
He loves to work in a variety of mediums resulting in a vivid collection of paintings, prints, ceramics, and sculpture that is engaging, beautiful and highlights the artist's distinctive style and love of his countries. You Are Art has been the artist's motto since 2018, stating "when in times where it looks as though hate is winning in our culture, I prefer to see the beauty around, everything and everyone inspires me in my art."
Garcia says his passion as an artist is to create art in every single technique, style, color and texture. "Art is both addictive and therapeutic, it is the best way to communicate the way I feel, think, love", declares Garcia. You Are Artis a powerful and vivid multi-media body of work that is infused with familiar imagery and subjects inspired by both his Mexican and American identities that is peppered with religious references.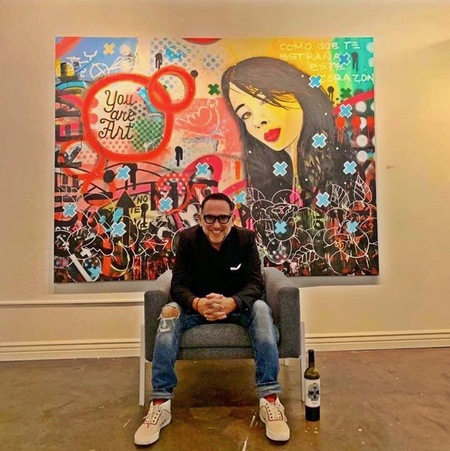 Gennaro Gacia with his latest painting "You Are Art"
Garcia has extensively exhibited his artwork in more than 80 exhibitions in the last 5 years and his work is featured in 10 galleries in USA and Mexico throughout the United States and Mexico. He has been featured in numerous local and national publications most recently in Phoenix Home & Garden, Phoenix Magazine, Phoenix New Times, and on Univision. Garcia is also the resident artist at Xico Inc.- Latin & Native American Arts Organization located in Phoenix.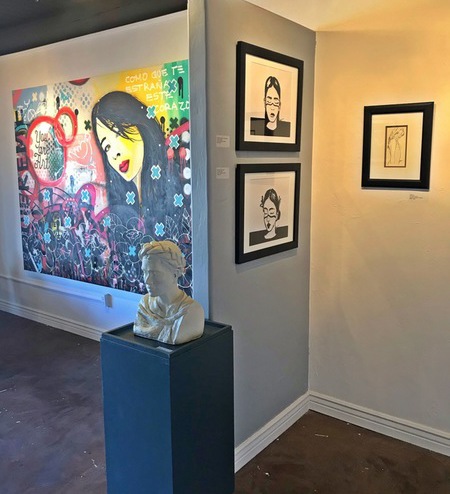 In early 2018 Garcia partnered with Aaron Chamberlin to open Taco Chelo in Downtown Phoenix, highlighting the traditions of Mexican food and his artwork. To date he has handled the interior design of 7 restaurants, featuring his art and furniture design including Taco Chelo and Chamberlin's newest restaurant Ghost Ranch. Garcia just finished a permanent art installation at two different wineries in Mexico, as well as installing a large collection of his artwork at Talavera at the Four Seasons Resort in Scottsdale. Next, he is set to open a gallery in Valle De Guadalupe, Mexico next summer.

"You Are Art" exhibition at Royse Contemporary
Join Royse Contemporary for the Closing Reception for You Are Art, coinciding with the weekly Scottsdale ArtWalk this Thursday, February 21, 2019 from 6-9pm. You Are Art will only be on display at Royse Contemporary through Saturday, February 23, 2019. Royse Contemporary is located in the Scottsdale Arts District in the Marshall Square complex at 7077 E. Main Street, Suite 6, Scottsdale. For more information about Royse Contemporary or our featured artists visit roysecontemporary.com. *Images courtesy and copyright Gennaro Garcia and Royse Contemporary.