Snow equates with the holidays for so many, yet here in the desert white Christmas's are hard to come by. This holiday season, enjoy some make-shift powder and holiday wonder at Enchanted Snowfall presented by La Encantada Shopping Center in Tucson.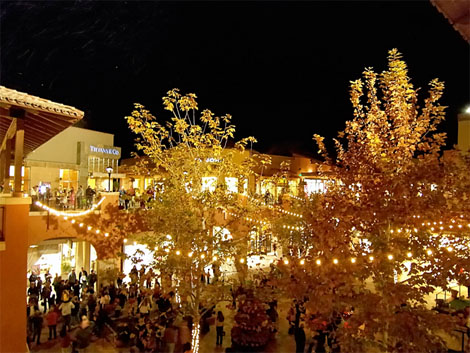 Enchanted Snowfall will take place in the gorgeous Tucson Lifestyle Courtyard at La Encantada for the last time this weekend before Christmas.
Each Friday and Saturday evening at 6:00pm and 6:45pm until December 18th, delicate sprinkles of snow will cascade to the ground and fill the shopping center. Although the sudden change in forecast isn't likely to alter Tucson's weather pattern, still attendees of the event can keep toasty with Hot Chocolate from Williams Sonoma. (This last point is enough of an incentive for me—I love Williams Sonoma Hot Chocolate—take my word for it, it's the stuff holidays are made of.)
In between snowfalls, musical stylings of local musicians will echoe throughout the shopping venue for all to enjoy during the 30-minute break. This weekends performances include Bill Ganz (Western Christmas) on December 17th and Know Man's Land (Jazz/Blues) on December 18th.
Many fans of Enchanted Snowfall, which has become a fixture at La Encantada these last few holiday seasons, enjoy the presentation s so much that they hit the courtyard multiple times per day and even come back two days in a row. The neatness factor, I guess, seems to amuse the child at heart. Kids are, of course, welcome and in fact seeing their faces light up adds an additional level joy to the whimsical nature of the snowfall.
The event is especially beneficial for holiday shoppers who are making their final gifting selections or just starting a stress-filled hunt for last minute presents. Stop by the Enchanted Snowfall to recharge your batteries between credit card swipes. In fact, put the credit card away since admission to Enchanted Snowfall is free.
To Learn More
La Encantada Shopping Center, 520.299.3566, www.laencantadashoppingcenter.com/events.