Page 2 of 2
Besides being ideal for couples, there is perhaps no place better suited for family reunions than Greer, especially at the Greer Lodge Resort inside the main lodge, which houses 11 guest rooms on three floors, with one large living room in its center. You and the gang can play board games, build a fire in the fireplace or just catch up in the cozy living area—then retreat to your rooms when you've had enough family bonding for one day. The ultracomfy rooms in the main lodge are outfitted with massive king beds, two inviting armchairs and spacious bathrooms, some of which feature jetted tubs and glass-door showers. Plus, the lodge is directly adjacent to the 373 Bar & Grill Restaurant, making mealtime with even the largest of broods practically fuss-free. The restaurant's fare is exactly the comforting, hearty type of food that suits a mountain getaway. Prime rib, juicy steaks and fresh fish are typical dinner offerings—no fancy-schmancy foams and reductions here.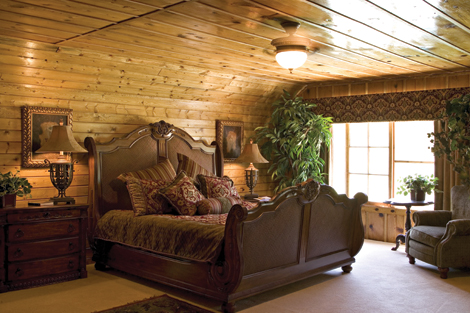 Although you might not necessarily think of an action-packed vacation to Greer, a multitude of activities are offered that satisfy a variety of personality types. Care to take a leisurely horseback ride through a picturesque prairie? Or perhaps you'd like to brave the winter cold and burn some calories cross-country skiing? Maybe you'd prefer a relaxing massage? Whatever your preference, Greer's got you covered.
Of course, there are some activities you most likely won't partake in during your stay in Greer, particularly if you decide to stay in certain rooms at Greer Lodge. Set your TiVo before you leave home to avoid any anxiety over missing Grey's Anatomy, because there are no TV's in the guest rooms of the main lodge. (There are a number of accommodations at Greer Lodge that do include a TV and DVD player, just in case you absolutely can't miss one episode of Dr. Grey and her crew.)
Although the Bose stereo system is the only high-tech form of entertainment provided in the rooms of the main lodge, I doubt you'll miss technology at all. In fact, the sometimes spotty cellphone coverage is the perfect excuse not to check work e-mails on your Blackberry at 3 a.m., like you frequently do at home. So go ahead—set your cellphone to silent, and sit back and enjoy the quiet, natural beauty that renders Greer one of the most popular vacation destinations in the state.
Greer Lodge Resort
928.735-7216, www.greerlodgeaz.com.