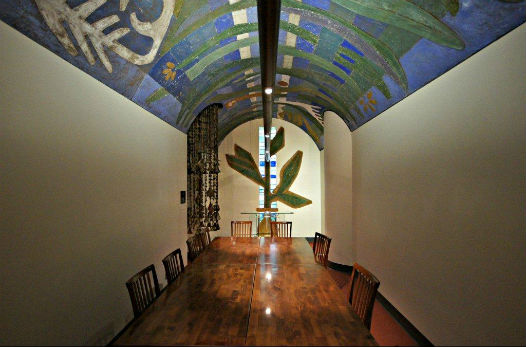 This is the inside of a chapel designed by Paolo Soleri that will only be viewable to the public at Sunday's Home Tour and Soleri.
In a first for Tucson, two powerhouses in architecture have joined together in a city-wide home tour to showcase some unique properties. The American Institute of Architects' (AIA) Southern Arizona Chapter and Tucson Historic Preservation Foundation, organizers of Tucson Modernism Week, will join forces on Sunday October 6, 2013 to celebrate a selection of architectural gems, from historic homes to fine examples of urban infill and affordable housing.
The two organizations decided to combine their tours, since AIA's Architecture Week and Tucson Modernism Week both overlap this year, and they share the same strong interest in the future of Tucson's built environments. The collaboration will make itTucson's most diversified home tour yet, say the organizers.
"This is a natural coming-together of two organizations committed to the city, its buildings, and its urban planning. With major changes going on in the core with building an transportation, Tucson and its built environments are in the spotlight. We're excited to be sharing some fine examples of architecture, both historic and modern, with the public, and we guarantee there will be something for everyone in this home tour," said Rob Paulus, President of AIA Southern "Demion Clinco, President of Tucson Historic Preservation Foundation leading Tucson Modernism Week said "We are so excited to partner with AIA to present this home tour. It provides an opportunity to see the historic modernist architecture traditions of our city and thearchitecture of today.
Among the buildings on the home tour will be:
• chapel 
• Art Brown house
• Hardin Residence 
District west of Tucson's downtown, a community that merges new urbanism with historical tradition. University of Arizona architecture professor Mary Hardin hired former architecture student Jason Gallo to help design a house that makes maximum use of air, steel and light. The four rooms are distributed around a courtyard to optimize natural light and ventilation. Structural adobe uses thermal mass to modulate interior comfort, while a steel brise-soleil shades in the summer and allows solar gain in the Habitat for Humanity offices.
Habitat for Humanity promotes affordable housing for all through affordable loans, no profits on the sale of the house, and volunteer labor and donations, and 'sweat equity' hours by the homeowners. AIA member DavidPlotkinof DKP Architecture & Consulting was the architect of Habitat's new home, formerly a warehouse for the Arizona Opera and now 16,000 sqft of office space. The design focuses on ecologically sustainable features, and minimizing energy costs, also on maximizing the openness of the existing volume while creating privacy among the various departments.
Through lectures, hike and bike tours, film screenings and the combined home tour, Architecture Week 2013 and Tucson's second annual Modernism Week will spotlight the city's buildings and architectural history.