Tucson has had a restaurant explosion and it's all good. The Coronet is in the newly remodeled Coronado Hotel at the southern tip of the 4th Avenue Merchant District before going into the tunnel and ending up downtown. More specifically, the Coronet is on the modern street car route across from the Shanty.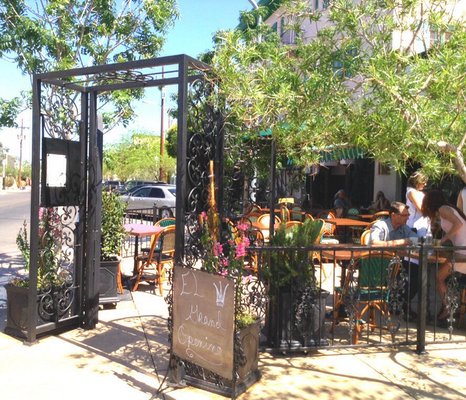 The Coronet bills itself as a brasserie style restaurant, i.e. "old-world rustic cuisine." You will see menu items not seen elsewhere in Tucson like tartines and porridge. Who talks like that anymore? And let's not forget the Ploughman's lunch. Quirky? Yes!
But that's the charm of the Coronet; it's not like everywhere else. And the difference between the old world and the new world was choice. Old world is less choice/much thoughtfulness and new world is too much choice. So if you want a traditional menu with say scrambled eggs and bacon for brunch or a breakfast burrito, you will have to eat elsewhere.
The popular weekend brunch combines breakfast and lunch items or you can choose "the bunnies," three of the side salads. The small menus lends itself to some humor and dinner menu has chicken Marbella, a dish that I love and make once a year for company. Also on the dinner menu sausages, fish, and tofu...pleasing most discriminating palates but not all whims.
The coveted shaded patio is perfect for late night dining or early morning porridge. Without the patio, seating will be limited but many Tucsonans don't mind a bit of sweat with their Pimm's Cup or sumac pita chips. The wisp of a breeze makes us pretend we're on a mountain top, hearty (crazy) souls that we are.
Last week during a windy spell my foodie buddies and I toasted to an auspicious occasion. We dined well on the cheese platter, the beet and walnut pate platter, tilapia in a bowl of sautéed greens, and tasted the minted pea salad (more mint, please). But after two bottles of Scarpetta pinot grigio, who cared?
For dessert, there was the mind-blowing orange date cake and lemon-turmeric cookies.
It's time for the Coronet to blow its horn for finding its niche in Tucson's changing culinary scene. Location: 402 E. 9th Street, closed Mondays.