Hey Tucson, what's up? Eat more pie for charity and then save room for a 15-course pop-up healing dinner and make your reservations early for Desserts at the Desert Museum. How sweet it is!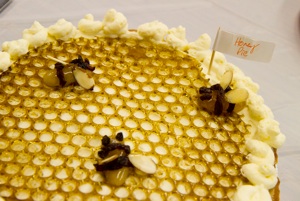 Pie Party - May 10
P.I.E. This three letter word conjures homey happenings, familiar aromas, and just a sense of place that remains with us through the decades.
Everyone has a favorite pie. Mine is tied between lemon meringue and apple but not just any apple pie. It has to be apple pie like my maternal grandmother made. In my lifetime, only one other apple pie has come close.
Eleven years ago, Ian Fritz and Turtle Southern started the celebration amongst friends. Each year the event grew larger until last year 500 people showed up to eat pie and raise thousands of dollars for charity.
Now Southern and Fritz have decided to pass the pie party torch.
This year's Pie Party will be organized by the Food Conspiracy Co-op and will be held on Saturday, May 10, from 3-6 p.m. at Mercado San Agustin.
Previous Pie Parties have taken the form of a competition but this year's event will be a pie potluck. Anyone can submit a pie to the Pie Party. Just drop off your pie (or pies) at the Mercado between 1-2 p.m.
Slices of pie cost $3, or $5 for two slices. Why stop at two? For each slice of pie attendees buy, they get one vote as to which local non-profit wins the proceeds. Eligible nonprofits include El Grupo Youth Cycling, Ironwood Tree Experience, The Happy Organization, Tucson Village Farm, and the Farm Education Resource Network.
Go eat pie for a good cause, Tucson!
Pop-Up Dinner for Wellness - May 12
The "Sanar" pop-up dinner happens at Agustin Kitchen at 7 pm. The dinner is a unique culinary collaboration between two of Tucson's brightest young talents -- Brian Smith, Executive Chef at Acacia Real Food & Cocktails, and Dave Valencia, lead line cook, at Agustin Kitchen.
Because they both believe in the healing properties of food, they named this dinner "Sanar", which in Spanish means "to heal or cure."
According to Chefs Smith and Valencia, each of the 15 courses (with paired wine and cocktails) has specific healing properties. This is one dinner not to be missed. Space is limited. Cost per person is $100.
Tickets can be purchased by emailing - daveyvalencia@gmail.com
Here's the 15-course menu:
Radish with house made bread /herb butter
Pea with mint/asparagus/melon
Beet and local goat cheese/dill/fennel
Asparagus with yolk/lemon
Squash and halibut/jalapeno/cucumber oil
Onion custard/orange
Carrot soil/mulch
Lemon scallop/pancetta/basil
Potato with elements of vichyssoise/gnocchi/smoke
Tomato and sweetbreads/buttermilk/pistachio
Peach mesquite
Strawberry foie gras
Celery Root mirepoix
Blackberry several ways, crème fraiche
Cucumber with green apple, pepita, milk
Agustin Kitchen is located in the Mercado San Agustin at 100 S Avendia Convento in downtown Tucson.
Dessert Fundraiser for Desert Museum - May 24
The Desert Museum is partnering with Tucson Originals restaurants and KOLD-TV for a confectionary cook-off to create original desserts using native Sonoran desert ingredients.
Stroll the grounds for a twilight viewing of the gardens, animals and exhibits from 6 - 10 p.m. Pick up your commemorative mug and savor specialty coffees or prickly pear margaritas available for purchase. Enjoy live music.
Sample the inventive culinary confections created by Tucson Original's restaurants chefs from 6 -9 p.m.
You be the judge! As you sample each dessert, score your favorites and submit your ballot by 8:30 p.m.
This event is recommended for adults only. Desert Museum members - $28/pp, non-members $38/pp. Ticket prices increase $5 a/o May 17 so buy yours today.