My secret passion is watching that Food Network show called Diners, Drive-ins and Dives. Oh, how I envy Guy Fieri (but also wonder how much of it is staged?) and his flashy convertible driving through town.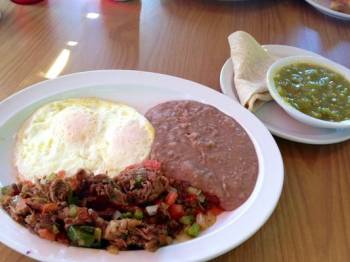 Methinks he needs to drive over to Poco & Mom's in Tucson's less fashionable eastside for some authentic New Mexico style home cooking. Even though Arizona borders on New Mexico, that style of Southwest cuisine is sparse around these parts.
Poco & Mom's is considered a diner or perhaps a dive as there's nothing distinctive about their décor. Who cares? It's what's on the plate and the service, where waitresses call you "hun," that is outstanding.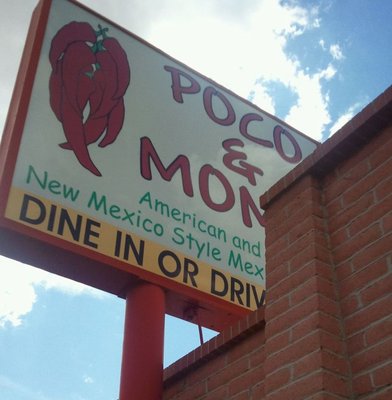 The name Poco & Mom's sounds like an 80's TV sitcom. Their website is kind of vague as to who Poco or Mom is but whoever they are -- the eating establishment was named after them.
Another one of my passions is Hatch green chilies. Even though I grew up in the Midwest in a kosher home, I have a Southwest soul and there's almost nothing better than the aroma of freshly roasted green chilies than, of course, eating them.
While there are plenty of places serving Mexican style breakfasts, not many service New Mexican style breakfasts like the Santa Fe breakfast with a lightly fried blue corn tortilla smothered with red or green Hatch chile sauce, two kinds of cheese, two eggs served with hash browns, refried beans and a flour tortilla. You better be hungry for that one.
Or maybe you want the Silver City edition with golden hash browns, grilled onions topped with Hatch green chile sauce, melted cheeses, and two eggs served with refried beans and a flour tortilla.
There are also huevos Rancheros, carne asada, machaca. The machaca was a homey concoction of seasoned ground beef sautéed with bell peppers, onions, tomatoes and two scrambled eggs then smothered with green chile sauce. Or you can have omelets with chorizo, jalapenos, machaca, and more.
If you're a purist and prefer only American style breakfast, there's waffles, bacon and eggs, pancakes – but heck, you can get that anywhere.
For lunch and dinner, try the sour cream green chile enchiladas, New Mexico style flat green chile enchiladas, sopapillas, chile rellenos, and my favorite – green chile stew. Picture a bowl filled with tender chunks of pork and potatoes in a spicy green chile broth. Mop it all up with a flour tortilla. Ah.
There's a morning drive thru window for a variety of breakfast burritos, orange juice, and so-so coffee.
Where's Guy Fieri when we need him?  He can find the restaurant at 1060 S. Kolb Road, just north of 22nd Street. Closed Monday.