Noble Hops is Oro Valley's answer to the neighborhood definitive pub with class. As a matter of fact, it is Tucson's original gastropub.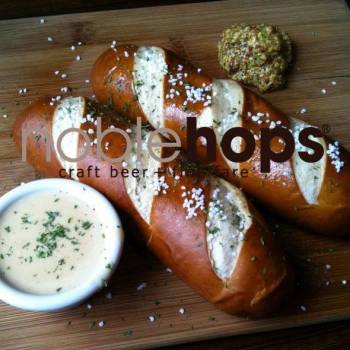 On any given night, Noble Hops' spacious and comfy patio teems with customers who crave craft beer and fine fare. If it's cold, there are fire pits and heat lamps to keep you warm. Alternatively if hot, misters put cooling moisture in the air much like a mini facial.
Now about that beer, the choices change rapidly. Customers drink approximately 50 kegs a week so if your favorite grapefruit IPA is there one day, it may be gone the next. No worries, with an impressive selection of more than 175 beers from around the world, you are bound to find something you like. For non hopsy-folks, there's also kegs of house wine, bottles of fine wine, and a full bar.
So, what are hops? Hops are a perennial plant of the Cannabaceae family that also includes the genus Cannabis. For beer, hops provide bitterness to balance the sweetness of malt sugars, as well as flavors, aromas, resins that increase head retention, and antiseptics to retard spoilage. Noble hops originated in central Europe and are among the most prized of the aroma hops. These hops impart a smooth bitterness and spicy/floral aromas. The noble hops are often used in lagers. Common descriptors for these hops include spicy, black pepper, licorice, perfume, floral, and herbal.
If you can't make up your mind as to which beer to choose, consider the flights option. Just tell your server what kind of beers you like – lager, ale, IPA, light, fruity, amber, wheat or mix it up for a walk on the sudsy side. (This is making me thirsty.)
Now for the nosh, eat as much or as little as you like but either way you won't want to miss the Bavarian pretzels served with savory cheese sauce and Champagne stone ground mustard. These hearty pretzels are imported from Germany par baked. They must be a Noble Hops favorite because 800 orders fly out of the kitchen every month.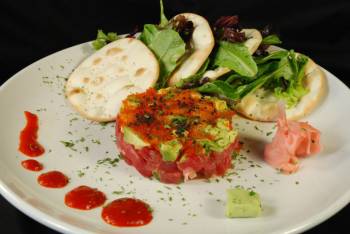 My beer buddy foodie friend and I shared the citrus beet salad made from spring mix, beets, oranges, toasted sweet oats honey truffle, crumbled blue goat cheese (like eating a garden party on a plate); portabella veggie burger (nobody missed the meat); and my favorite – the spicy tuna tower made with raw diced tuna, jalapenos, sweet and spicy ginger dressing, avocado, ginger, fish roe, smoked chili sauce, wasabi paste, and Lavosh crackers (lots of flavors popping).
Enjoy the small plates like grilled artichokes or mussels Diablo; the big plates like oxtail & gnudi dumpling, sober hen, Cornish lamb pasties, achiote bistro steak and bangers & mash; artisan flatbreads made from homemade Scottish ale dough, and more.
The brothers Mussman (Aric and Josh) make a great team with their combined love of food, craft beers and hospitality plus. Follow Noble Hops on Facebook to learn more about monthly beer dinners, live music, happy hours (2 to 6 pm) and specials. The Mussmans also own and operate Vero Amore Pizza.
(photos/courtesy Noble Hops)
(Learn more about hops – The Perfect Pint)