What's a ROO? In this case, it's Renee's Organic Oven. Renee's restaurant has many firsts: For instance, when gluten free was not the major buzzword it is today, the then Eclectic Pizza began serving gluten free pizza simply by putting a sign out front saying they offered gluten free pizza crust and it caught on; that was 2007.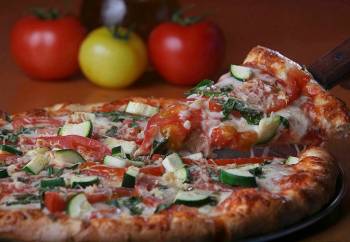 Since that time, they have served just less than 10,000 gluten free pizzas! Serving gluten free is not only about no wheat but the stones in the oven must be separated as well as, separate equipment, a gloved only station with only gluten free making and plating, an additional crew member is needed to staff that station and the entire team must be well trained on what is required in order to offer gluten free to guests.
We hungry mortals take for granted the complexities of other dietary requirements.
Formerly Eclectic Pizza, Renee did a bold leap and changed the name of her restaurant to better target the focus of organic.
Another of the firsts is using mostly organic ingredients. It's not often that a restaurant takes on organic in its name. A few ingredients may be organic but not so at Renee's Organic Oven.
"My desire was to bring pure, clean approachable and organic foods to the table here in Tucson," says Renee Kreager. "I've had a strong dedication to this from that day forward. I take it as an honor to reinvest the dollars shared with us here with responsible growers, makers and businesses of all kind. I have never had the pink and blue sweetener packets on our tables. I have always bought eco-friendly products and organic staples for our menu."
According to Renee there has never been a single menu item that contained MSG or hydrogenated oil.
"We offered organic cheese in the beginning and it is unbelievably expensive," states Kreager. "Now, we offer it as an option that the diner can commit to supporting or not, and it doesn't impact the other guests." For people who want organic cheese on a 16-inch pizza, the cost is an additional $8.

The ambiance at ROO alludes warm, cozy and red, almost like sitting in the middle of a ripe tomato. The salads all pop with flavor because of the freshest of greens. My favorite is Jamie's Super Salad made from organic house black beans and homemade hummus topped with mixed greens, salsa fresca and avocado. ROO makes its own organic bread.
Be an artist and create your own pizza toppings from local tomatoes, sun-dried tomato, fresh mushrooms, red bell pepper, roasted red pepper, red onion, caramelized onion, Kalamata olives, green olives, black olives, broccoli, spinach, artichoke hearts, organic zucchini, basil, cilantro, fresh pineapple, avocado, jalapeno, roasted chilies, cashews, and pine nuts plus humanely-raised, sustainable, and local meat options, Mary's free-range baked chicken, Mary's free-range spicy baked chicken, San Rafael Organic grass-fed beef, artisan bacon and more.
This blogger finds it interesting as to where restaurateurs eat when not at their own places. Here are some of Kreager's favorites and why: Zemam's is a happy place, 47 Scott for raising the bar on craft cocktails in Tucson, and Kingfisher Bar & Grill where the food, the service and the integrity of every dish is always very good.
As for what to look for at Renee's Organic Oven – a new drink menu hits table in May. While there is no full bar, there will be 6 to 8 crafted cocktails on the menu. Add a great wine menu including Wild Child Red from Pillsbury Wines, an Arizona wine, will be on the summer menu. Happy hour happens every day from 4 to 6 pm; this is a great time to explore drink options as all beer is $2, most wine is $5 and cocktails are $6.
You can follow ROO on Facebook for their happenings and events, located at 7065 E Tanque Verde Rd; Tucson, AZ 85715; open daily from 11 am – 9 pm.