You could say that Agustin Kitchen is the end of the line, the modern streetcar line, that is. Hopefully, that's a good thing for Mercado San Agustin and its tenants who have been waiting for the crowds to come.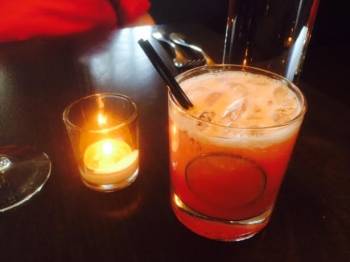 On a recent week night I dropped by and was pleasantly surprised to see people sitting in the Mercado's courtyard enjoying the serene setting and each other.
Agustin Kitchen took over the short-lived Agustin Brassiere. Now Chef Ryan Clark has breathed new life into the gracious space and he finally has a restaurant with a name vs. a restaurant with no name as when he was tethered under the Lodge on the Desert awning. Every resto needs an identity and a brand, especially one with an award-winning chef.
Here Chef Clark shines as he walks around the room amicably talking to customers and executing culinary magic within the confines of his open kitchen.
My carnivore friend was craving tartare. Really? I felt queasy just thinking about eating raw meat but I gave into her whim and am so thankful I did. My tastebuds were awakened. Who else in this town (Tucson) deftly executes steak tartare?
I am hooked even though I rarely eat red meat much less raw. The Arizona Waygu beef was served flattened like a patty topped with a very runny egg. The pretty plate beheld circles of Parmesan mayo, resembling pop art. It was almost too pretty to eat with the thinly-sliced garlicky-buttery, lightly-toasted baguette. I just didn't want this dish to end.
Chef Clark recommended a nightly special -- the beer can chicken which we shared. Marinated with Kilt Lifter® Scottish Ale, the tender half chicken was served on a bed of pureed green chili peppers and corn puree with roasted zucchini spears. For diners, who don't eat carbs, this chicken dish could be defined as Southwest comfort food.
The space is cozy if you're sitting in a corner banquette and transparently comfortable with its divided bar area. Speaking of the bar, of course, world-class cocktails are top shelf liquid assets. Pictured is the pomegranate sour margarita but the best seller goes down easy – the Glass Eye – a heady concoction of peated scotch, ruby port, lime, sugar and absinthe.
Chef and cookbook author Clark is also president of Slow Food Southern Arizona. His passion is to use as many local purveyors as possible including chicken from central Tucson, local eggs, produce, olive oil, nuts, etc.
Agustin Kitchen is open for brunch, lunch, dinner, early and late happy hours, for banquets and catering. The new spring menu is now online. Agustin Kitchen is located at 100 S. Avenida del Convento in the Mercado San Agustin. All aboard.