Breakfast is my favorite meal of the day. Is happy hour considered a meal? My mama always said, "Eat your breakfast." I didn't at the time but now with some of these favorites in close proximity, I'm happy to oblige.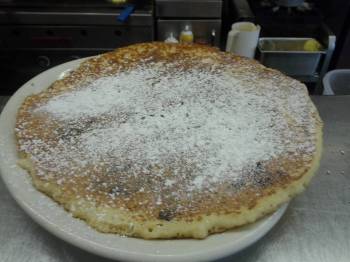 Bobo's Restaurant
Bobo's takes you back to the basics as there is next to no décor but who needs ambiance when Bobo's has the best pancakes on the planet? This writer's favorite is the banana pancake which almost overlaps the plate. The solo pancake resembles a puffy flying saucer smothered with caramelized bananas or bananas that have practically turned into candy perhaps from the addition of butter – lots of sweet butter – and brown sugar. If bananas aren't your thing, go with the chocolate chip pancakes. We don't see anything wrong eating dessert for breakfast but if you like country-style eggs, bacon, grits, biscuits, and gravy in gargantuan portions Bobo's does not disappoint. Its only fault is bad coffee but it's easier to get good coffee in Tucson than good pancakes.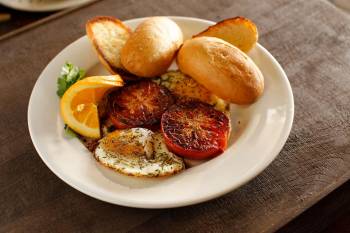 Ghini's French Caffé
Viva La France! Give me locally-sourced broiled hot house tomatoes, freshly baked and buttered baguettes, and eggs cooked perfectly then sprinkled with fresh thyme washed down with a giant café au lait and what a beautiful day it is. Lots of customers must agree as there's usually a wait on weekends. Order your eggs over easy to mop it all up with the bakery-fresh bread. Vegans may substitute tofu for the egg. French toast with Nutella, Croque Monsieur and Croque Madame, stuffed crepes, garlic chicken and eggs, omelettes and more of the oooh la la breakfast options served all day. Sit on the patio with your well-behaved dog or inside under the dangling crystal chandeliers.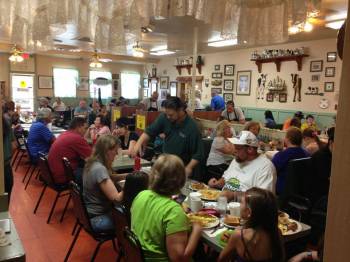 Hungry Fox
Judging by the parking lot on Saturday and Sunday morning, the Hungry Fox is a generational favorite. Grandparents took their kids who now take their kids. It's the kind of place that serves white bread comfort food in a setting filled with knick knacks that your Aunt Dorothy had on the coffee table, the piano, the shelves, the dresser, and probably tucked away in the closet. Adjacent to the dining room, much of this knicky-knacky stuff is for sale. People favor the Hungry Fox for their double-yolk eggs, large portions, and waitresses who call their customers "hon."
Prep and Pastry
Formerly Amelia Grey's, Prep and Pastry has thrown its proverbial bonnet into the ring of popular breakfast joints on busy Campbell Avenue or what I fondly call "Restaurant Row, UA adjacent." The new configuration seems to have more seating as now there's a counter as well as a big patio. Nibble on featherlike scones in inventive flavors (creme brulee?) then try creative menu items -- sweet potato hash, pork belly or grilled veggie Benedicts, Monte Cristo, duck confit breakfast sandwich, stuffed poblano rellenos, and snicker-doodle pancakes. All washed down with richly brewed coffee.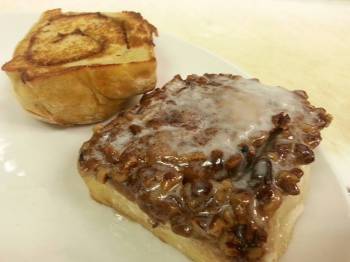 Robert's Restaurant
Oh, those homemade cinnamon rolls. They are worth waking up for and don't take your time because they do run out. Friends claim these hot sweet gooey buns are the best in Tucson but take these rolls to the next level by grilling them for a tastier portion. Since 1978, Robert's has not added preservatives or additives to their white bread, whole wheat bread or any baked goodies. For more health oriented fare try the oatmeal, chicken burger and eggs or the grilled fillet of trout and eggs. Waffles, French toast, pancakes, biscuits & gravy, chicken-fried steak and omelets satisfy every appetite. Eat!